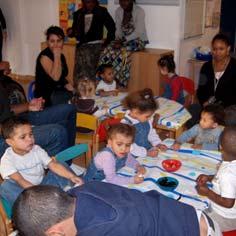 Social and Employment
Place
Yvelines, France
Sponsor
Estelle Lucas
Grant(s)
15,000 € to the Selection Committee at 2007/12/04
Project leader
Baby-Loup
"Baby-Loup is more than a childcare centre: it is a genuine civic living space accessible to all and for all because it is as close as possible to the inhabitants, the parents and the children. As a family mother, it is the ideal childcare system for me, simple, accessible, effective, and adapted to all lifestyles."

Estelle Lucas
How to accept a job when your professional working hours keep your child out of any childcare centre? Many mothers unable to find a reliable solution simply give up. And those who have no choice call on moonlighters or have an older sibling babysit their child.
Based on this finding, a group of women of the cité La Noé, a popular neighborhood of Chanteloup-les-Vignes (78), created the Baby-Loup Associative Childcare Centre in 1991.
Their determination: to create a childcare service closer to the needs of the inhabitants.
Today, Baby-Loup operates round the clock and seven days per week. It thus provides a solution to parents who work at night (guardians, industry, hospitals, etc.), in abnormal working hours (restaurants, hotels, mass merchandizing, etc.) or on weekends (employees or shopkeepers).
And it is not a childcare centre like the others. Thus, the association pays and trains the women of the neighborhoods who initially have no experience or skills. And concerning matters related to the children, Baby-Loup has created an expression space for the parents, generally deprived of a public forum.
For all these reasons, the childcare centre has been approved by the Conseil Général des Yvelines and is backed by the Caisse d'Allocations Familiales, with the label "Innovative Structure for Young Children".
Promoting the awakening of the children to create a genuine equal opportunity
For the childcare centre team, the blossoming of a child is connected with the quality of the meetings and activities offered to it from infancy. The children of the disadvantaged neighborhoods do not have any opportunity to compensate for the impoverished exchanges within the family by activities which stimulate their awakening.
It is to redress this established social injustice that from the earliest infancy, Baby-Loup wants to take advantage of the time spent at the childcare centre to make the child discover new experiences in the fields of music, dancing, painting, oral expression, storytelling, etc.
To open up other fields of discovery for the little ones, Baby-Loup now wants to organize cultural weekend outings. This initiative is backed by the Veolia Foundation, with a grant of 15,000 euros to contribute to the purchase of a minibus.