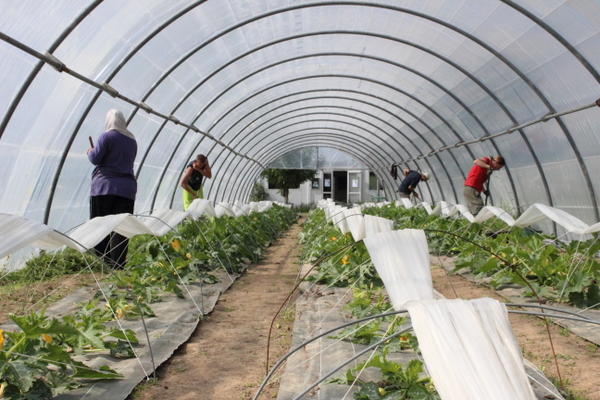 Social and Employment
Place
Pays de Lorient, France
Sponsor
Adrien Morel-Fatio
Grant(s)
€12,000 to the Selection Committee at 2013/10/15
Project leader
Optim Services
"The nonprofit offers the regular delivery of baskets of organic produce and I plan to promote these baskets with the staff of the Service Pays de Lorient agency.But above all, we share the same water resource, for different purposes, and this creates a bond and a common cause to defend: the quality of the water of the Scorff River. We will be providing our technical assistance in this project."

Adrien Morel-Fatio
The nonprofit Optim Services, created in 1999, began its back-to-work activities in the building trades and open spaces, and then developed to meet the needs of the Lorient district (Morbihan), taking care to blend environment with integration. It accordingly created two Jardins de Cocagne organic farms: the first started up in 2004 at Pont-Scorff and the second responded to the needs of the commune of Riantec in 2010. Each farm has 10 to 12 back-to-work employees on contracts for 26 hours per week renewable every six months. The trainees are accompanied by three market-garden experts and one integration manager per site, where they carry out all the agricultural tasks, from seeding to harvesting. The produce is sold in the form of weekly baskets to a network of 160 members, and by direct sales one day per week at each site.
Facilities needing improvements
Today, the two farms produce and prepare 160 baskets every week, supply three restaurants and provide the equivalent of 40 baskets by direct sales. According to a study carried out by the Cocagne network, the nonprofit's land could produce the equivalent of 300 baskets, if the irrigation system could be supplemented with open field spray booms and lines for the new tunnels. The storage areas also need to be augmented because the nonprofit lacks a cold room for storing the vegetables, and the sanitation system of the second plot needs to be completed.
Growing demand
To expand its sales and secure its income, the nonprofit has initiated a more sales-oriented approach by increasing the supply of baskets by proposing organic produce from local partners (bread, mushrooms, cheese, etc.) and by prospecting the companies and new restaurants (a childcare center wants to procure its vegetables from them).
Investments required
To meet future demand, the nonprofit is investing in several facilities: a pump and an irrigation system (4 km of rigid self-regulated drip irrigation lines and 5 spray booms) to boost the self-sufficiency of the employees in sprinkling, a cold room to store the vegetables in summer and winter (frost-protected) and a tractor to train the employees wishing to go into the market garden trade. A vehicle designed to deliver the vegetables and conveyance to events, and ultimately to market, is also necessary (today, the teams make deliveries in an old Mercedes Sprinter).
Better working and training conditions
This equipment serves to work in conditions closer to the conventional market garden farm, and also to open up other workstations and develop new skills for the back-to-work employees (storage with the cold room, operating the tractor, stand at events).
Modernizing a Jardin de Cocagne organic farm
The Foundation is joining Direccte Bretagne and the Morbihan regional authorities to finance this equipment, but a partnership with Veolia also helps educate the employees in water management by a field trip to the Pont-Scorff drinking water plant and during the installation of the new irrigation system.