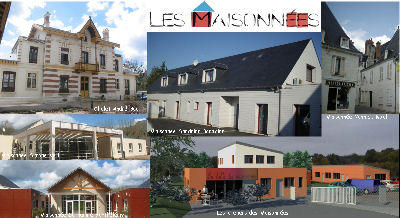 Social and Employment
Place
Azay-le-rideau, France
Sponsor
Catherine Thierry
Grant(s)
20 000 € to the Selection Committee at 2010/01/26
Project leader
"Having retired myself, I'm keen to devote myself to this project and to the activities of the association ADMR, whose values I share: human dignity, outreach to families, opening to the outside world, hope instilled through the many activities which offer the residents "moments of genuine living and happiness" and for some, unique opportunities for change."

Catherine Thierry
Since 2006, the parents association ADMR Les Maisonnées has created living spaces, which it manages itself, for 36 young autistic adults. These "maisonnées" are medicalized homes and happen to be the only structures dedicated to this type of public throughout the Indre-et-Loire district. But the needs in terms of accommodation are growing steadily. ADMR therefore wants to grow to open its doors to fifteen new residents as of 2011. The least severely affected will be lodged in studio apartments in downtown Azay-le-Rideau. Others, facing a more difficult situation, will reside in a medicalized home 10km away. Yet the new residents, like their predecessors, will enjoy all the benefits offered by the workshops.
Land clearance today for workshops of tomorrow
To boost the number of its workshops, it is planned to clear a 1 hectare plot and to provide the care necessary for thirty century old plane trees, on the banks of the Indre, because this site has been abandoned for over 20 years. The work will also help secure the area by installing a barrier, which will nevertheless allow the river to overflow in the high-water season in order to preserve the typical biodiversity of the flooded prairies.
A wild natural space will thus be preserved.
On this redeveloped plot, new activities will be proposed to the young autistic adults: production of osier, cultivation of fruit trees (apples, pears), growing of red fruits (to make jam), truck farming, upkeep of open spaces, discovery of the problematics of environmental conservation, sensory itinerary dedicated to odors, etc.
The Veolia Foundation supports the development of this plot, which will very shortly be opening its doors to the inhabitants of a nearby retirement home.
Life in the open air will then reunite several generations.