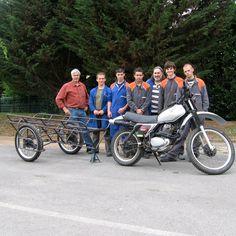 Social and Employment
Place
Dogon Country, Mali
Sponsor
Jean-Baptiste Leclerc
Grant(s)
3,500 € to the Selection Committee at 2009/01/27
Project leader
Jonction Sud
« Jonction Sud's approach goes beyond the supply of a motorcycle ambulance and its trolley.
The strong involvement of the students and a recognition of their work for a humanitarian purpose strengthens them and gives them confidence. There's a genuine encounter with the local population during the mechanical training dispensed live to the future users of this means of locomotion. »

Jean-Baptiste Leclerc
Deep in the heart of the Dogon country in Mali, where numerous cliffs make driving problematic, when someone is sick and requires hospital care, the most widely used means of transportation is still a cart drawn by a zebu.
It takes several hours to get from the village to the nearest dispensary, which is obviously a serious problem for the sufferers. Another means of locomotion, much faster and ideally adapted to the terrain, is the motorcycle.
Students undergoing "car body construction" training at the Nicolas Joseph Cugnot Vocational School in Neuilly-sur-Marne, who maintain a partnership with the association Jonction Sud, have designed a prototype motorcycle ambulance adapted to the rough terrain, to travel on narrow tracks ... including in the rainy season.
A "turnkey" motorcycle
Thanks to its technical features, this machine, provided to the community health centre of Sangha, will help reach the remotest villages and to take charge of all the needy persons. A first motorcycle ambulance has already been commissioned successfully.
On completion of their project, the high school students deeply implicated in the project, will set off to deliver their products and share, with the future users, all the knowhow that they have acquired throughout the project, so that the upkeep and maintenance of the motorcycle can be carried out on the spot, without any difficulty.
For the population of the Dogon country, this aid participates in the disenclosure of their villages and facilitates healthcare access.
For the young Frenchmen, the project, which they track from A to Z, offers solid experience in mechanics and car body building, as well as training in project management, plus a vivid appreciation of the necessities of north-south cooperation.