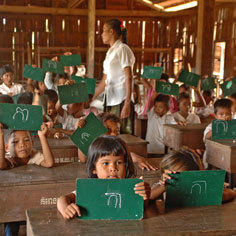 Social and Employment
Place
Banteay Meanchey, Cambodia
Sponsor
Aurore du Rusquec
Grant
15 000 € to the Selection Committee at 2009/06/16
Project leader
"This project is one of the most urgent carried out today by Enfants du Mékong, because of the very large number of children in this village (more than 1300). Today, due to the lack of space, several school levels are gathered together in the same classroom (there are only eight classrooms to accommodate fourteen different classes). Besides, it lacks a junior high school and the headmistress will be able to ask other teachers to come if a building is built."
Aurore du Rusquec
The country is still very poor after 30 years of civil war.Cambodia has not stopped dressing its wounds since the war ended in the 1990s.The genocide committed by the Khmer Rouge against the civil population has left lasting scars: 2 million people were killed and, among them, many teachers.Today, with a young population - more than 60% of the population is under 18 - one of the major problems is access to quality education for all.In the poor province of Banteay Meanchey, the NGO has therefore undertaken (among many other projects) to rebuild a school building designed to last.
Six new classrooms to create a future junior high school
For the time being, the primary school building concerned is made of wood and vastly undersized in comparison with demand.Among the drawbacks that this situation causes, the classrooms are overcrowded.The teachers are forced to deal with several different school levels in the same place.Besides, the wooden building, built at ground level, is regularly flooded and damaged when the abundant rains fall in the monsoon.The cement building that Enfants du Mékong is building alongside will be raised on piles, thereby sparing it from this risk - independently of the choice of the material, which is infinitely more solid.On the whole, six new classrooms will be built, so that the classrooms reserved for primary school students will be separated from those dedicated to the older ones, and a junior high school will progressively be created.
Alongside other partners, the Veolia Foundation will help Enfants du Mékong to complete this eagerly awaited extension.Today, in fact, 1311 children of the commune are less than 15 years old, 511 of them of primary school age.Thanks to this new building, the school will be able to accommodate them all in favorable conditions, including the young girls for whom an appropriate sanitary block will be built.