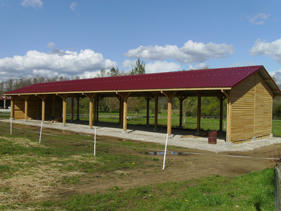 Social and Employment
Place
Peyrins, France
Sponsor
Richard Debray
Grant(s)
10,000 € to the Selection Committee at 2011/04/05
Project leader
La Ferme de Cocagne is a nonprofit for workforce development through business activity, created in 1994 in the Drôme district. Its original activity is organic truck farming, and the produce is delivered to a network of members. But very quickly, and in order to continue working off season, La Ferme set up environmental projects for space upkeep. Their success provided work for up to three teams per year. In 2007, an eco-building team was started up to build new premises for La Ferme. Three buildings have been completed, providing work for nearly 80 persons on back-to-work contracts and a score of trainees in various activities.
80 persons on back-to-work contracts
To expand its activities, La Ferme plans to build two new eco-buildings on its Peyrins site, near Romans in the Drômedistrict:one for organic truck farming activity (washing, packaging, cold room, direct sales), and the other for administrative services including: kitchen, dining room, dressing rooms and restrooms, 11 offices and a function room (training-meetings), a wood fired boilerhouse and guardian's home. These ecological buildings are made from local and renewable materials (earth, straw, wood) with renewable energies (wood burning boiler, Provencal well, passive solar and photovoltaic energy).
Over and above the additional buildings to relocate its activities, this project meets an urgent need to upgrade La Ferme de Cocagne to standard. It will also provide experience and training to the back-to-work employees in a new growth field, namely eco-building. La Ferme in fact plans to open training schools for eco-building training centers like Néopolis (INEED—CCI 26) and GRETA VIVA 5.
The Veolia Foundation is participating in equipping the building for truck farming activities by contributing to the construction of the cold room.