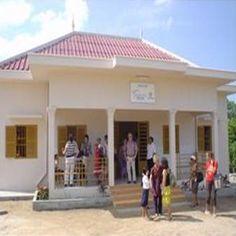 Social and Employment
Place
Sihanoukville, Cambodia
Sponsor
Denise Roger-Rodès
Grant(s)
16,000 € to the Selection Committee at 2006/03/28
  Project leader ADOS (Association pour le Développement de l'orphelinat de Sihanoukville)
«  Rather than adopt these children from the other side of the world, the organization has chosen to focus its efforts on helping them stay in their native country and meeting all their needs (accommodation, food, education, etc.). When they become adults, they will have the knowledge and skills to occupy key positions and so participate in the development of their country whose economy, even today, is still suffering terribly from the 1975-1979 genocide. »

Denise Roger-Rodès
In 1990, the future creator of Ados, Dr. Jean Raquet, a pediatrician, volunteered for a humanitarian mission with Médecins du Monde in Cambodia.
The country was in a state of virtual collapse after the mass killing and destruction wrought by the dictatorial Khmer Rouge regime. One third of the population had been killed, families had been decimated and many children separated from their parents.
Dr. Raquet's mission took him to the public hospital of Sihanoukville, where he became aware of the incalculable number of orphans that needed to be cared for.
Designed by a former inmate of the orphanage
After Médecins du Monde, he worked first of all for the non-profit organization Enfants d'Asie, which set up the first orphanage in the city. Eight houses were built for the first "children's village" in Sihanoukville. The children were not housed in a closed orphanage but lived in a village where many activities and programs were organized especially for them. Three other houses were subsequently built.
With the aim of continuing the work, Jean Raquet set up Ados in 1988 as a way of encouraging sponsorship of children.
Today, Ados is keen to built a 12th house to accommodate another 15 children. The Veolia foundation has decided to support construction of this new house. A nice detail: the architect is a young graduate and format inmate of the orphanage!