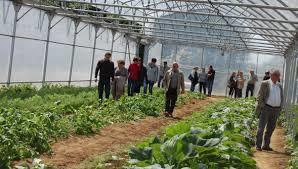 Social and Employment
Place
Arras, France
Sponsor
Laurent Kosmalski
Grant(s)
€10,000 to the Selection Committee at 2011/06/28
Project leader
Le Coin Familial
"By developing a social, economic, environmental project and by recreating social links between the persons involved (gardeners, back-to-work employees, farming staff, members, neighbors, local farmers, institutional partners, etc. ), this project is resolutely planted in the heart of the outreach economy and sustainable development."

Laurent Kosmalski
For more than 30 years, the nonprofit Le Coin Familial, in Arras, has supported and counseled isolated persons in vulnerable situations, in a process of reintegration and identity rebuilding.Through back-to-work workshops and projects (ACI) and in a logic of integration through business activity (IAE), the nonprofit proposes reception, counseling and "employee" status, in the form of a subsidized contract.The activities concern ironing and needlework, building and finishing works, truck farming and moving.
Their latest project, Cultiver la solidarité (Cultivating Solidarity) is also designed to fight exclusion and precariousness.This time, the aim is to assemble the conditions of a return to a lasting job, among women and men in social and professional difficulty, in an enhancing work environment through an organic farming operation, with the Jardins de Cocagne label.
Enhancing work activity
Cultivating solidarity takes shape in the form of a truck farming operation on 5 hectares in the business park of the Vallée du Bois de l'Est in Bapaume (southeast of Arras).The plot is divided into several production areas, a subdivision that serves to identify each batch and each crop bed to facilitate geographical identification of the produce for the gardeners and to optimize production planning.
To guarantee production in sufficient quantities and proper working conditions to the employees, investments in vehicles (personnel transportation and basket delivery) are required, as well as equipment for maintenance, gardening and packaging.Greenhouses, an irrigation system and a cold room will also be purchased.To start with, the project enables 10 welfare recipients, men and women, young and old, to obtain the single job contract (CUI) and to find counseling in their steps towards employment.Another 10 CUI will fill out the team in the near future.
The Veolia Foundation is participating in the equipment of the truck farming operation.