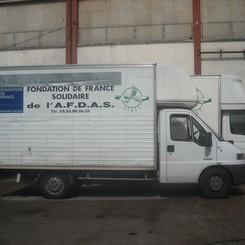 Social and Employment
Place
Agen, France
Sponsor
Michel Khun
Grant(s)
€10,000 to the Selection Committee at 2012/03/06
Project leader
"Through its activity, this nonprofit enables people in serious difficulty to acquire clothing, furniture, and to eat fresh produce at minimum cost. It is therefore vital for it to have a permanent and healthy place to receive its public."

Michel Khun
Armed with over 25 years of experience in the Agen area, AFDAS is a nonprofit positioned in the field of social economics, and aims above all to be a player on the human scale. Approved as a workforce development agency since May 2010, it relies on support activities based on sustainable development and social service (partial or total clearance of miscellaneous premises, sale of upgraded equipment, and outreach food supply). Alongside a permanent team of nine volunteers and four paid employees, five back-to-work employees complete the staff and are engaged for a maximum period of two years in the structure. Over there, they enjoy socioprofessional counseling to help them find a lasting job. But the development guidelines feasible for the structure cannot be met due to the lack of space and functions in their current premises in Agen.
A player on the human scale
The nonprofit therefore wants to buy a plot located on the neighboring commune of Bon-Encontre containing a large exhibition space, as well as annexes, one of which will be allocated to the employees (dressing rooms, mess hall, rest and relaxation rooms), and the second to a pre-show repair and storage facility. The plot also contains a large parking lot and an independent residence, which could be revamped in the future as "social" housing and thereby supply the nonprofit with regular financial revenue. The plot will be purchased by equity funding. However, an investment will have to be made for upgrading to standards, on the electrical portion, as well as the roof and ceilings of the premises. AFDAS also plans various arrangements, particularly concerning the space dedicated to meals, the workshop, sales areas and security and access facilities. Work is also needed on communication, and this has already begun with the creation of a new logo and an internet site. New signage will also have to be designed to mark the route to the plot, and for traffic within it.