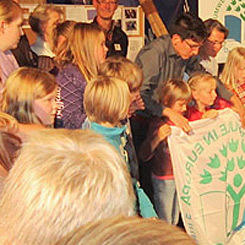 Environment and Biodiversity
Place
Celle (Land de Basse-Saxe), Germany
Sponsor
Stefan Jakubik
Grant(s)
€5,000 to the Selection Committee at 2011/10/20
Project leader
Schulverein der Grundschule Nadelberg
"I'm enthusiastic about this project for two reasons: its determination to improve the scientific education of our children; and because it offers a real opportunity to me and my colleagues to get involved personally by counseling the practical activities."

Stefan Jakubik
The nonprofit Schulverein, created in 1982, supports the cultural and educational activities of the Nadelberg primary school of Celle, a German city in Lower Saxony. Since 2007, the primary school has stood out as an Umweltschule in Europa- Internationale Agenda 21-Schule (Environmental School in Europe - International Agenda 21 School). Today, the nonprofit wants to set up a program entitled "Environment and Energy Today and Tomorrow". After testing over the 2011-2012 school year, it will ultimately be incorporated in the school curriculum.
Familiarizing and educating the students with natural phenomena
The program, which combines theory and practice, will help familiarize and educate the students in natural phenomena. The theoretical part includes basic knowledge about energy sources, such as light, air and water, and a number of basic experiments. The practical part will enable the students to intensify their knowledge in the field by means of excursions, observations and measurements in the wild. The pilot project will last ten months. The results should be presented at the national contest called "Jugend forscht" (youth and research). All the equipment will then be put to long-term use along the same principles during the school's general knowledge, mathematics and physics courses.
The Veolia Foundation is participating in the project by financing part of the educational equipment required for the practical experiments.