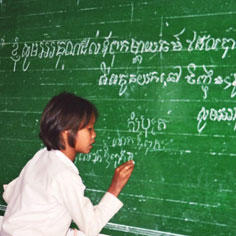 Social and Employment
Place
Département of Phnom-Leab, Cambodia
Sponsor
Claude Camou
Grant
29 000 € to the Selection Committee at 2007/07/03
Project leader
Aide à l'Enfant Réfugié
"The AER project is important because it guarantees the continuity of the action initiated by the association. After the construction of primary schools, it is important to continue school attendance to secondary level. The future school will admit children from several villages, while being located locally to limit the walking distances."

Claude Camou
After the years of war that it witnessed, Cambodia remains a fragile country. Especially in the countryside, the families, still mostly very poor, experience tremendous difficulties in sending their children to school - especially secondary school. It is estimated that less than 15% of any age bracket of the students continue their studies beyond primary school.
To try to improve this situation, the French humanitarian association "Aide à l'Enfant Réfugié", (AER), has launched the construction of a new secondary school in the département of Phnom-Leab. Located less than 5 kilometers from each of the each villages for which it has been conducting development projects for more than six years, this new school will encourage many young pupils to pursue further studies. Until early 2007, in fact, the only "accessible" secondary school was situated more than 10 kilometers from the villages; lacking collective transportation, they could only go on foot.
1250 Pupils Already in Primary School
The new secondary school, the culmination of the "education" aspect of the action developed by AER in the six villages, will enable the children attending primary school today to pursue their studies. Five schools have already been built by AER since 2000: they accommodate 1250 pupils today divided into six school levels. 16 Cambodian teachers have been hired to staff and train all these children.
This engagement in favor of education supplements all the projects already undertaken by AER in the region, in the areas of water, health, agriculture and sponsorship of the children of poor families. The overall goal of the association is to set up the conditions necessary for the economic and social re-development of this region, the present home of many families emerging from refugee camps, forced to learn again to take their lives in their hands.