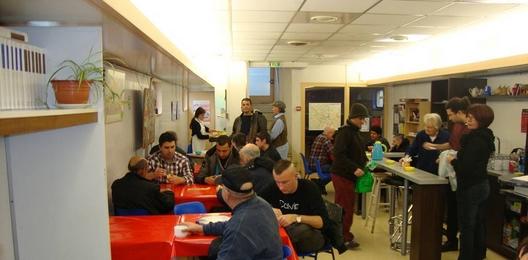 Social and Employment
Place
Lyon, France
Sponsor
Philippe Imbert
Grant(s)
10 000 € to the Selection Committee at 2012/06/05
Project leader
"The project is perfectly realistic and provides a quantitative answer to the growing attendance registered in recent years. And by creating a Care space with a hot water point and minimal hygiene for a haircut, its impact will be immediate."

Philippe Imbert
In the 1990s, three Lyon nonprofits, fully aware of the ravages of misery, joined hands on a project aimed to provide the homeless with a day hostel slightly more friendly than the railroad station and the lawns of the squares of Lyon.
Les Amis de la Rue (Villeurbanne), Habitat et Humanisme and les Petits Frères des Pauvres therefore proposed to the government and the local authorities the acquisition of a barge to convert it into a day hostel. This led to the creation of the nonprofit Péniche Accueil in 1991, and in 1993, the barge Le Balajo opened its doors on quai du docteur Gailleton, deep in the heart of Lyon. Le Balajo offers a friendly setting, where vulnerable persons can drop in. They have a collective reception room equipped with a bar where cold or hot beverages (non-alcoholic) are served. Péniche Accueil also offers socio-administrative aid provided by social workers and medical supervision (presence of doctors, nurses and psychologists), under the responsibility of Médecins du monde (Doctors of the World). The users can also benefit from a hygiene service (shower booths).
Nearly 18 000 passages per year
The number of persons welcomed daily ranges from about forty to over 100, with an annual daily average that has risen from 54 in 2010 to 66 in 2011 (nearly 18 000 passages in the year). The nonprofit operates with four full-time employees and forty volunteers, and faced with growing demand, wants to have an additional space, because at present, only the indoor space of the barge is furnished, making some counseling sessions and hygiene somewhat difficult. The 30 % enlargement of the reception area demands the creation of a 30 square meter cabin on the upper deck of the barge. Two hairdressing units and two socio-aesthetic units will operate in a customized and clean area. This is a particularly important approach to helping the persons received to recover their self-respect. Besides, beyond this "Care" space, an area equipped with a computer and a calm area offering a short rest are planned.
The project is the conclusion of a series of operations on the barge initiated in 2008 (furnishing of a restroom, refurbishing of the indoor hall, removal of the engine) for which the Veolia Foundation already made a grant in 2010.
 
---
OTHER PROJECT SUPPORTED
Péniche Accueil
Domain: Social and employment
Country: France
Endowment: 2010/03/30
Refitting the premises of a barge to welcome the most disadvantaged people.