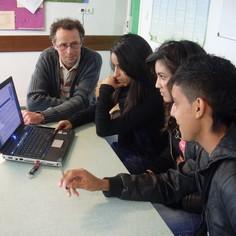 Social and Employment
Place
Argenteuil, France
Sponsor
Patricia Vinet
Grant(s)
30 000 € to the Selection Committee at 2010/01/26
Project leader
"In my opinion, the magic recipe for restoring confidence in adolescents and young adults simply doesn't exist.
It's the task of the associations, and every individual's determination, to make our society move ahead. The project will be designed to be released to all those who, in France, seek to understand what has happened to them, and want to retrieve control of their lives. It will be carried through by the educators, teachers, and parents."

Patricia Vinet
Since the nonprofit association Valdocco was created in 1995, it has accompanied adolescents and young adults to help them recover a balance in mainstream society, and helps them return to the world of work. Its approach is rather remarkable, insofar as its assistees get "comprehensive" help: no question here of "only" thinking about social aspects, schooling, health, or a job designed to restore self-esteem.
Everything concerning the young persons who come to see Valdocco's teams in Argenteuil or Lyon is taken up for possible use as a working basis: one's daily life, needs, talents, available means of communication, etc. This is the context in which Valdocco has launched a new training tool that encompasses the communication vectors current today.
Getting to know yourself better for successful integration
Twenty one adults of Argenteuil will act out various situations in which they may have been involved. The video clips of these performances will enable their spectators to understand how certain problems could have been avoided, or how a reaction may have a negative effect that was entirely unintended. The first task is to write the educational scenarios of these small films, shoot them, transpose them to a computerized medium, and train the teachers in the optimal use of this new tool. The tool developed will then be released to those who want to know more about it. The municipality of Argenteuil has identified three pilot sites with the Valdocco teams, two of them in a so-called sensitive neighborhood. Once they have been furnished, they will accommodate the 30 teachers who will then staff the project. Valdocco soon expects to attract 250 young persons with this multimedia training program. The Veolia Foundation is supporting the project financially.