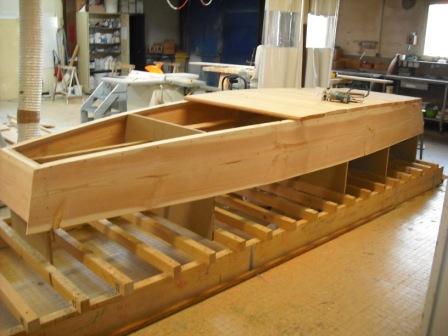 Social and Employment
Place
Buxerolles, France
Sponsor
Pierrick Richard
Grant(s)
10 000 € to the Selection Committee at 2010/01/26
Project leader
The association Cap Vert is a boatyard that has been active for a dozen years in social integration and workforce development. It has 9 back-to-work employees, including a technical deputy position, and custom builds small sailboats and 6.10 m two-masters, while performing many maintenance operations.
The project under way involves testing ecological products (hemp-resin fabric) combined with local varieties of timber, in order to validate the new manufacturing processes, while paying close attention to the recycling and treatment of the waste generated.
The investments required concern the logistic organization and waste treatment, designed to minimize workplace hazards associated with the boatyard's activities.
A prototype project conducted as part of a "collective action"
Since its creation, Cap Vert has pursued a strategy of constant innovation, both educational, by assigning a large share to the sailing activities of the trainees, and technical, with the design of the craft thanks to the contribution of outside expertise.
The first phase of the current project concerns the construction of a prototype in partnership with an engineering school, alongside the Regional Centre for Technology Transfer and the economic players of the Poitou Charentes region, in order to validate the products and processes.
The Veolia Foundation was approached to finance the equipment and the construction of specific tools for waste treatment and for reducing workplace hazards: compressors and cooling installation, floor and suction table, filtering and vacuum system, waste retention and storage tank, security of the premises.