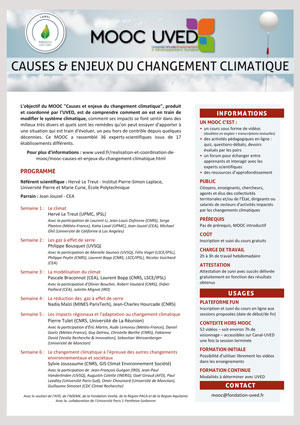 The Environment and Sustainable Development Virtual University (UVED) takes advantage of its many partners to regularly offer themed educational resources to the general public. In late 2015, at a time when international representatives were involved in COP21, UVED offered the general public a MOOC on the Causes and Challenges of Climate Change. Videos, quizzes and an interactive forum gave an overview of climate change issues over a six-week period. Six topics were tackled by 36 speakers from 17 institutions. The 52 videos provided seven hours of audiovisual course content relayed by verbatim transcriptions.
Some 7,470 people from 33 countries registered for the MOOC, which was available in French and English. The vast majority of the learners felt that they had made progress as a result of following the course. Internet users also value the quality of the MOOC provided by UVED: 44% of those who registered for the Climate Change Causes and Challenges course were following or had already followed another UVED MOOC.
Keen to take a look at this MOOC's content? All the course videos are freely available on the UVED website, the UVED channel and on UVED's YouTube channel.
 
The success of Fabienne David's video (VERI)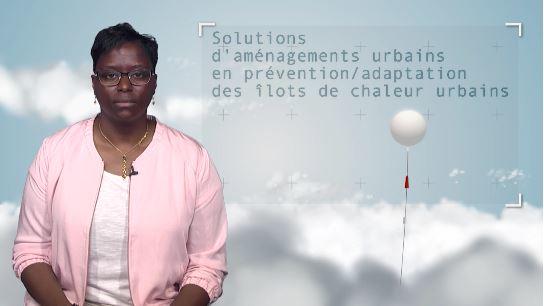 Fabienne David from Veolia Research & Innovation (VERI) was one of the experts approached by UVED to take part in the MOOC. Her presentation on Urban development solutions to prevent/adapt urban heat islands proved to be the most popular video in the course's fifth week. Watch it on the UVED channel.
Veolia Foundation was a partner for a first MOOC in 2015
The Veolia Foundation supported a UVED Biodiversity MOOC for the first time last year. The MOOC ran from May to July 2015. In order to support the MOOC on the Causes and Challenges of Climate Change, Amélie Rouvin, a VESA sustainable development project manager, agreed to sponsor the project so as to "facilitate free access for a large audience to training on a complex subject requiring this type of learning."