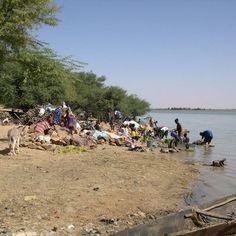 Humanitarian and Development
Place
Niafunke circle, Mali
Sponsor
Anne-Sophie Pierre
Grant(s)
40,000 € to the Selection Committee at 2005/10/04
Project leader
Solena
"The beneficiary communes have also made a financial contribution to these projects which demonstrates the level of their commitment. Users and migrant workers in the villages have agreed to contribute resources of their own."

Anne-Sophie Pierre
Better known on the international blues circuit than in the world of development aid, Ali Farka Touré has just added another string to his bow by becoming mayor of Niafunke, the principal town in the circle of the same name in the region of Tombouctou.
Shortly after being elected in 2004, he called on the expert assistance of Veolia Water Force, which took part in a special development event held in the Niafunke circle, alongside partners such as the Rhône-Alpes regional authority, the "Fondation Mérieux" and development players based locally. It soon became apparent that hydraulics and sanitation were the key priorities for the region's inhabitants.
Solena alongside Veolia Water Force
Thierry Vandevelde's team joined forces with the Solena association, made up of present or retired Veolia Environnement employees. Together, they worked on identifying the drinking water requirements of three principal towns in the Niafunke circle and eventually decided to implement projects in two of them: the communes of Soumpi and N'Gorkou. Members of Solena, supported by experts from Veolia Water Force, will oversee boring of wells for connection to solar pumps and mini water supply systems. Solena will monitor the projects, from selection of contractor companies through to commissioning of installations. Better still: it will provide training for a number of locals so that they can subsequently supervise equipment operation and maintenance. The Veolia foundation has provided funding of 40,000 euros to cover part of the work.