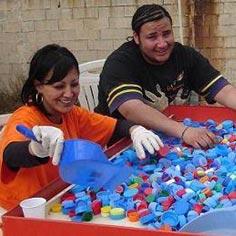 Social and Employment
Place
Toulon, Var department of France
Sponsors
Fabien Vocicot, Philippe Bregeard
Grant(s) €40,000 to the Selection Committee at 2005/04/05
  Project leader Unis-Cité
«  Unis-Cité is putting in place a framework for social volunteer work that is neither charity volunteering nor salaried employment to respond to the need for young people to commit to solidarity. It remains the primary association that does this. We can only encourage such initiatives. »

Fabien Vocicot et Philippe Bregeard
Since 1995, the Unis-Cité Association has organised a volunteer solidarity service as a full-time occupation over nine months. This answers the desire of many young people to do something useful and offer their "life force" to the many solidarity initiatives that exist in France. Open to young people aged 18 to 25, this service has been set up on the basis of regional organisations in the cities of Grenoble, Lille, Lyons, Marseilles, Nantes, Paris, Saint-Étienne, Strasbourg and Toulon. Located in Marseilles since 2001, Unis-Cité Méditerranée started a new branch in Toulon in 2003.
Action for social progress
Local partners of the organisation — such as the town politicians, the area authority, the City of Toulon, the Area Employment Pact scheme, the Area Council, etc. — were very favourable towards the Association and joined a steering committee to support its launch.
In scarcely two years, Unis-Cité Toulon has woven connections with more than 300 active solidarity organisations. Each graduating class of young people, with around twenty members, is therefore able to become involved for nine months in projects working against social exclusion, in favour of sustainable development and for the improvement of the way we live and work.
In 2005, for instance, two new projects were started: the selective sorting of drinks bottles caps, the profits from which can be used to buy "handisport" chairs for handicapped people and to welcome refugees and asylum seekers.
The Veolia foundation decided to grant €40,000 to support the work of a team of committed young people.