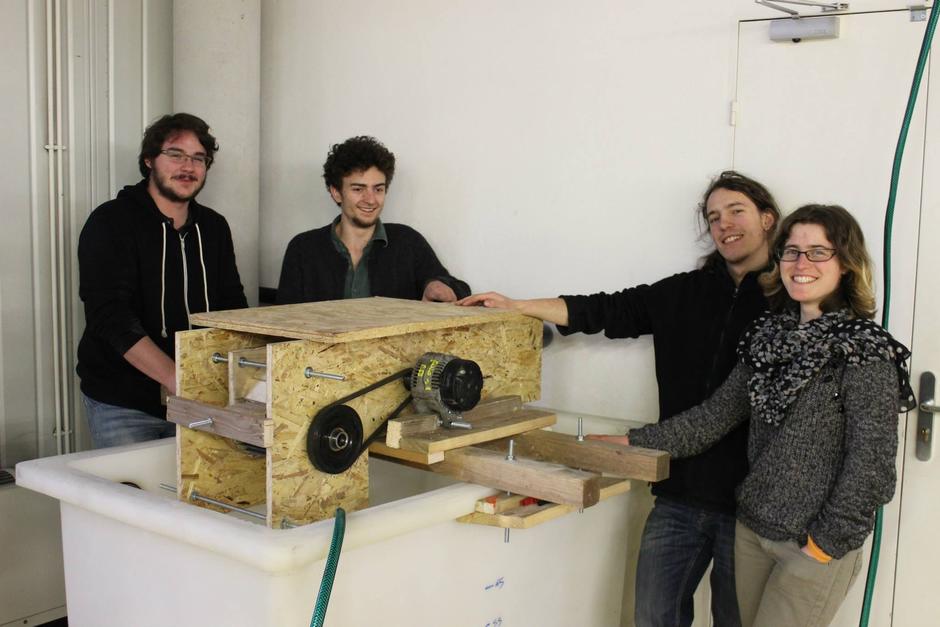 COP21
Location
Grenoble, France
Sponsor
Jean-Marc Padoy, Veolia
Grant
4 000 €, Special COP21, 2015 Student Solidarity Award, 06/24/2015
Project Leader
Hydr'Open, nonprofit led by Grenoble INP – ENSE3 students
Jean-Marc Padoy, Veolia :
"The goal of designing micro-turbines using open-source technology to provide very broad access to complex know-how evidently calls for reflection around the practical aspects of producing the equipment. This means focusing on simple and affordable methods and incorporating an educational component (technical and environmental) to guarantee continued viability.  In its current state of advancement, the project obviously requires a great deal of additional work on the electricity generation aspect, primarily as concerns the needs of future users so as to adapt the design specifications. This part will only be viable if it integrates new, environment-friendly concepts and uses."
The Hydr'Open nonprofit, set up in 2015, is working on a simple, robust, open-source turbine to allow as many people as possible to harness the hydraulic potential of the water resources available in many parts of the world, that is cheap, easy to use and has no negative impact on the environment.
Propose a clean, sustainable energy solution for isolated communities…
Hydr'Open is currently building a first prototype of the turbine with a capacity of 1 kWatt. The students plan to test this prototype in a watermill in the north of the Isère department, and subsequently develop turbines producing from 1 to 50 kWatt of power, enough to meet the primary energy needs – lighting, healthcare, education and development of economic activities – of villages in developing countries. The turbine is an autonomous energy source, not connected to the electricity grid and  covering a limited geographic scope. It could therefore provide a sustainable solution for isolated populations lacking easy access to electricity but that do have usable water resources.
The long-term vision of the project is to make this technology available to other watermills and subsequently to other users, in France and elsewhere. The turbine,  based on free, open-source technology, can be easily built without specialist expertise, using reclaimed materials to reduce production costs. The technology would be passed on through turbine-building training sessions and dissemination of a construction manual.
...by creating an innovative technology within the reach of all
Hydr'Open aims to propose a "clean" solution to isolated populations lacking access to electricity. The micro-turbine will also usefully replace other power generation systems that have a negative impact on the environment. Lastly, the students have incorporated a circular economy dimension in their project by using reclaimed materials to build the turbine.
To get their project off the ground, they benefitted from the support of Alstom engineers and the Hydro'like industrial chair. The Grenoble INP partnership foundation also provided help by financing the initial phase of the project. At the beginning of June, Hydr'Open won third prize in the Sustainable Development Generation competition organized by the magazine La Recherche.
The jury of the 2015 Student Solidarity Award appreciated the innovative nature of the project and awarded Hydr'Open the special "COP21" prize.