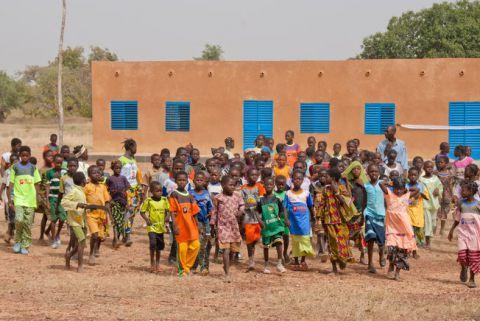 Humanitarian and Development
Place
Province of Yatenga, Burkina Faso
Sponsor
Marc Coffinet
Grant(s)
5 000 € to the Selection Committee at 2009/09/29
Project leader
While NGO's strive to solve the problems of malnutrition and health in this former French colony, one of the world's poorest countries, the international humanitarian outreach association Le Grain is working to promote primary schooling in the rural environment. Since its creation in July 2006, its main objective has been to foster access to knowledge in the villages of Yatenga, by building schools, in agreement with the population and the administrative authorities.
Following the construction of a primary school at Tamsin, inaugurated in October 2008 to welcome a first class (there are two today and a third will be opened for the 2010 school year) and faced with the success of the operation, the association decided to take on Vadg-Yiri, a village located some fifteen kilometers from Tamsin.
In the meantime, at Ronga, a village of 4000 inhabitants organized in neighborhoods, it financed a well dug by the villagers on the edge of the fields, instantly available to the peasants.
At Vadg-Yiri, more than 200 children are waiting for suitable premises for their studies
The decision to install the school in one village rather than another is a collective decision that supplies a real need: the number of children who need schooling, lacking or unsuitable premises, the commitment and participation of the population. It is also based on the expertise of the stakeholders and on the Education Ministry, which appoints and pays the teachers.
The choice of the village of Vadg-Yiri, its nearness to Tamsin, is partly explained by the cooperation existing between the teachers, as well as the association's wish to avoid dispersing the schools, to ensure that exchanges between the various teaching institutions would always be possible.
In the very earliest visits to the site, it was decided to combine the two projects, the school and the well. The water needed by the worksite will thus be drawn on the spot instead of being transported from the water point located a good distance away, a chore traditionally handled by the women of the village. And yet, the difficulty of excavating a hard and cobbly soil with the next to useless tools of the villagers demands the services of a welldigger.
The village authorities who approved the project released a 5 hectare plot free of charge, nicely located close to a major communication artery. And the villagers agreed to provide the aggregates, use a donkey drawn water tank to supply the contractor pending the excavation of the well, and to supply the unskilled labor.
This outreach project, which includes the construction of a sanitary block (latrines) of 3 stations, will potentially benefit 240 students and will provide work for several trades, from masonry to mechanics. Three teachers, including a director, are appointed and paid by the Ministry for this new institution.