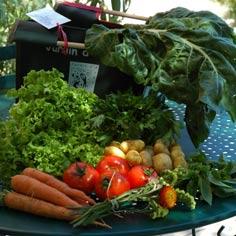 Social and Employment
Project leader
Jardin d'avenir
Place
Saint-Martin-en-Haut, Rhône, France
Sponsor
Lamia Aissaoui
Grant(s)
12,000 euro to the Selection Committee at 2006/12/05
"Jean-Yves Point, founder of this initiative, has plenty of plans to enhance the positioning and usefulness of his "Garden of the future". He is keen to take on young people under 25 in close collaboration with local structures. He would also like to employ traditional, environmentally friendly techniques, such as the use of draft horses for heavy work."
Lamia Aissaoui
Until now, the Monts du Lyonnais area between Lyon and Saint-Étienne was handicapped by a lack of professional reintegration structures. Jardin d'avenir is providing one solution by taking over a biological farming activity in Saint-Martin-en-Haut. The organization has obtained the services of two professional market gardeners and two other supervisors, along with official approval to run a subsidized-employment scheme involving 12 people under contract. They will produce fruit and vegetables to be sold in "bio produce baskets" on a weekly basis to consumers who have signed up to the scheme.
A new garden of plenty
The organization benefits from experience obtained in similar projects launched in a number of French regions as part of the Jardins de Cocagne network.
To guarantee the viability of this initiative, it obtained support from the European Leader+ program to launch an information campaign to publicize its initiative and has already signed up several members.
However, to get the project going, Jardin d'avenir needed to start production, which meant investing in fitting out a building (office, bathroom facilities, changing rooms, etc), acquiring farm machinery from the former owner and purchasing a tractor and tools.