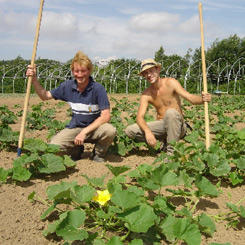 Social and Employment
Place
Villeneuve-d'Ascq, France
Sponsor
Thierry Delobelle
Grant(s)
€8,000 to the Selection Committee at 2011/10/20
Project leader
"I personally participate in the acquisition of the vegetable baskets to support the nonprofit and want to get my colleagues involved in providing voluntary skills, in order to complete the irrigation system and thereby give them the feel of the problems faced by people in a vulnerable situation."

Thierry Delobelle
Association Solidarité & Initiative is a nonprofit created in October 2009, and its aim is to fight social exclusion through business and educational activity. It very quickly decided to create a jardin de Cocagne, on the Haute-Borne scientific park of Villeneuve-d'Ascq. A dynamic park which accommodates nearly 70 laboratories and companies (5500 employees) and which is located near the scientific city of Lille (3500 employees-teachers-researchers and 20,000 students). This location, extremely valuable in terms of outlets, also helps to consider the development of partnerships, to turn the project into a venue for meetings and the engagement of all the local players.
Got to have a barn
Barely two years after its creation, the nonprofit already has 130 members. The project is therefore ongoing and there are 12 back-to-work employees. Today, the target is to grow to 15 employees and therefore work 3 hectares instead of the present 1.5 and thereby increase the number of weekly baskets distributed. To achieve this objective, new investments are required: a barn (400 m2); a new block of greenhouses and an additional irrigation system (new greenhouse and open country). To store the harvest with the proper differentiation, stow away and park all the agricultural equipment, and efficiently prepare 120 weekly baskets (against 50 in 2010) and welcome the member consumers, having a barn is absolutely indispensable.
The Veolia Foundation is participating in the purchase of the barn and the organization of the irrigation system.