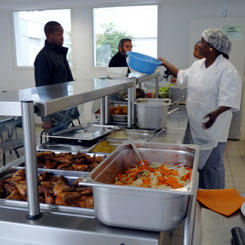 Social and Employment
Place
19th district of Paris, France
Sponsor
Grégory Véron
Grant(s)
€3,000 to the Selection Committee at 2011/06/28
Project leader
Marmite d'Afrique
Marmite d'Afrique, a registered nonprofit, was created in 2008 to carry out the project of social catering with a workforce development aspect, in a former ADOMA migrant workers' hostel in the 19th district of Paris. To do this, Marmite d'Afrique converted a decades-old informal collective kitchen into a genuine social catering establishment meeting all the regulations in force. This marks the very first time that a social residence in Paris has legalized its catering service.
Main dish at € 2.60
The social restaurant was created as part of a workforce development project and intends to accommodate a team of 14 and then 18 persons, who will train in catering in actual production conditions. The Marmite d'Afrique team will therefore produce traditional African food at low price (€ 2.60 the main dish) for the residents of the facility, and also for all the indigent population who already frequented the informal kitchen of the hostel. The project will therefore simultaneously produce meals at minimum cost for the destitute population and create 18 back-to-work jobs.
The Veolia Foundation has contributed to the project, which fits in with its neighborhood outreach action, by funding the purchase of a trolley and service tables.