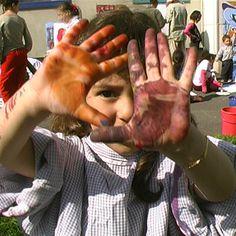 Social and Employment
Project leader
Place
Lyon, France
Sponsor
Johanne Gros
Grant(s)
17000 € to the Selection Committee at 2007/10/02
"I deeply appreciate the pedagogical approach of this association, in which I am also a volunteer. It isn't just a matter of guiding the child towards an imposed method, but rather to let him free with his own techniques and help him advance on this path. Solidly rooted in the Lyons associative landscape, Arts et Développement has an excellent knowledge of the neighborhoods where it operates. It succeeds in establishing unique relationships with the inhabitants of these difficult neighborhoods".
Johanne Gros
Since it was created ten years ago, the association Arts et Développement has been organizing painting and sculpture workshops at the foot of the buildings of so-called difficult neighborhoods, aimed at the children. In the social housing satellite towns of the Rhône-Alpes region - at Vaulx-en-Velin, Givors, Bron and in the 8th District of Lyon - the artists and volunteers of the association give the youths the means to create freely and to express their wishes, dreams and anger in color. These outdoor workshops, available to anyone who so desires, welcome 10 to 40 children staffed by a painter-plastic artist whose role is to supervise them individually and help them advance in their own way of expression. A full-time member of the association, assisted by volunteers, oversees the progress of the sessions and the wellbeing of each child.
The workshops take place on Wednesday and Saturday afternoons. In the year 2006 alone, 166 painting workshops were organized. More than 2 000 budding painters had the opportunity to produce some 3 179 pictures.
Creating an Art Library
While the children's paintings are stored, classed and exhibited regularly in places such as social centers, libraries and other municipal premises, the association Arts et Développement wants to create an art library in order to preserve the cultural heritage that the works represent. To do this, it needs to buy exhibition equipment (frames, hooks, etc.). Besides, this year, it also wants to renew its IT hardware and renew its equipment: canvas shelters, tarpaulins, overalls, easels. A "plus" that would improve the smooth running of the activity. To enable the association Arts et Développement to continue to promote the creativity of the children and to help make them the players in their own development, the Veolia foundation is backing this project.