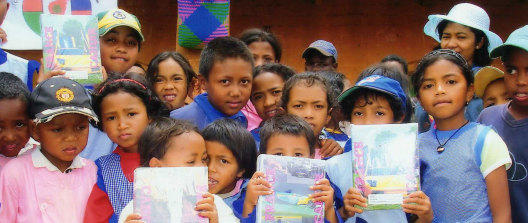 Humanitarian and Development
Place
Ampahimanga, Madagascar
Sponsor
Emeric Dequidt
Grant(s)
€10,000 to the Selection Committee at 2012/12/19
Project leader
Amandie
"All the players are involved, from construction of the hydraulic system to monitoring over time.Even the beneficiaries, who supply the manpower and are members of the users' association."

Emeric Dequidt
Based in Franqueville-Saint-Pierre, the nonprofit Amitié Madagascar Normandie (Amandie) is a cultural and humanitarian association which, since 2006, has been encouraging the people of Normandy to discover and assist the island of Madagascar, through miscellaneous events and humanitarian, educational and economic projects.
One of its projects concerns Ampahimanga, a rural commune at the center of Madagascar, where the local drinking water supply network, installed in 1970, is obsolete and unreliable, forcing the population to fetch water outside the commune, water which is often unhealthy, leading to the proliferation of water-borne diseases, which include cholera, dengue fever, typhoid, etc.
6 000 users concerned
To address this situation, the addition and use of another new powerful spring, offering a sufficient delivery, and the renovation/extension of the current drinking water supply system, appears to be the ideal solution. To do this, in addition to the actual network, Amandie plans to build latrines, standpipes, washhouses and even hand-washing basins. Aware of the importance of the project, the population is prepared to take over the management of the new infrastructure, and, above, all, to maintain it over time.This is why a users' association, water point committees and a team of two technicians will be formed on the spot, and the local authorities will benefit from training in hygiene. The water users' association will run the installation and will be in charge of collecting the money from the beneficiaries. This money will be used to operate and maintain the infrastructure. The project, initiated on March 31, 2012, concerns the 6 000 inhabitants of Ampahimanga and is scheduled for completion in November 2014.
A participative sanitation project in Madagascar
The Veolia Foundation is backing the project alongside the Seine Normandie water agency, the commune of Franqueville-Saint-Pierre, and public and private bodies.