The first lockdown prompted numerous demonstrations of solidarity. Several players joined forces to implement an innovative system for distributing hygiene kits to the most disadvantaged people, along with solutions for access to water for people living in precarious conditions. More details from Croix-Rouge Insertion, Fondation Vinci pour la Cité, Fondation Crédit Agricole Solidarité et Développement, Fondation Eiffage and Icade.
On March 17, 2020, France stood still, pushing the most deprived groups of people even further into the unknown. The coronavirus was circulating and protective measures were imposed. But how could they be put into practice when living in precarious conditions with no soap or water? How could we ensure the now vital hygiene in camps, squats or shantytowns?
The NGOs Médecins du Monde and Solidarités International, which have a strong presence on the ground, responded by providing water connections and distributing hygiene kits. In practical terms, shower gel, tissues, soap, toothbrushes and nappies were distributed in transparent bags. It was still necessary to finance these purchases and find a partner capable of putting together several hundred kits during the lockdown. The Veolia Foundation offered Croix-Rouge Insertion (CRI), a subsidiary of the French Red Cross, its financial support so that its employees on work integration schemes could put the kits together. The aim was for CRI to be able to continue its important work to combat job insecurity by expanding employment - even during lockdowns.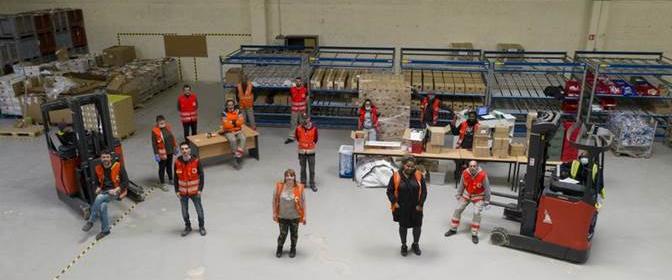 Several private sector actors stepped in to finance the purchase of the products and the work of CRI, and also provide access to water where there was none. Fondation Vinci pour la Cité, Fondation Crédit Agricole Solidarité et Développement, Fondation Eiffage and the real estate operator Icade were all involved. Over just a few weeks, several hundred kits were put together, transported and distributed by the NGOs (Médecins du Monde, Solidarités International, Autremonde, ASAV 92, etc.), particularly in the Ile-de-France region and the Toulouse area. A novel system for pooling resources to help the forgotten people on the streets and ensuring that the French Red Cross's urgent work of integration continues, in spite of lockdowns.