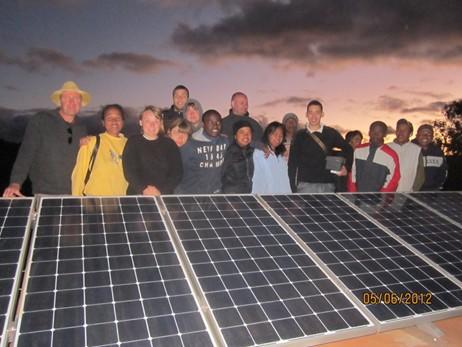 Humanitarian and Development
Place
Miantsoarivo, Madagascar
Sponsor
Jean-Baptiste Sivery
Grant(s)
€ 5,000 to the Selection Committee at 2012/03/06
Project leader
Foyer socio éducatif des Lycées Colbert
"This is a really meaningful project because of the combination of players, the efficient technical solution, and its sustainable and reproducible character."

Jean-Baptiste Sivery
The Colbert Institute in Tourcoing was founded in the late XIXth century. Today, under the name of Lycée Colbert, it includes a general educational and technical high school, a professional high school, a Greta, an experience validation center (VAE) and accommodates nearly 1 000 students and pupils for a hundred or so teachers. Within this institution, a nonprofit association was formed in 2005 with the name Foyer socio-éducatif (FSE) des lycées Colbert de Tourcoing. Its role is to facilitate the organization of artistic, cultural, manual, scientific and outreach activities intended for the pupils and students of the high school.
Solar electrification, a valid solution
As part of its outreach activities, FSE des lycées Colbert de Tourcoing is supporting the project of 10 French and Madagascan students (5 in an electrical engineering degree course at the Colbert High School and 5 from the Polytechnic School of Antananarivo, the capital of Madagascar). This educational and humanitarian project calls for providing photovoltaic equipment to the health center of Miantsoarivo, a small remote village in the highland region of Madagascar. For this locality lacking electric power supply, solar electrification proves to be the ideal solution. This technology uses a local resource that is inexhaustible and readily available. In concrete terms, the 10 students, supervised by two teachers with degrees in electronics, will go to the spot for twelve weeks in order to first carry out the technical study and then the actual construction of the photovoltaic installation, in cooperation with the local authorities. This outreach project, besides the fact that it improves the accommodation and health conditions of the villagers of Miantsoarivo and the nearby villages (more than 50 000 people), is aimed to promote the openness and intercultural exchanges of the young persons and also, via the transfer of skills, to enable the local players to take over the project ultimately and therefore reproduce it if necessary.