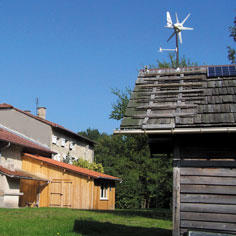 Environment and Biodiversity
Project leader
Fédération mosellane Culture et libertés
Place
Languimberg, Moselle, France
Sponsor
Emmanuel Tami
Grant(s)
30 000 € to the Selection Committee at 2007/04/03
"The project has the remarkable advantage of addressing ecology as a whole and not piecemeal. The association has succeeded in exploiting the variety of existing energy production systems (wood burning boilerhouse, solar panels, wind generators). Testimony of its value and its growing success: the Franco-German Office for Youth will shortly be sending junior high school classes to the Relais des étangs."
Emmanuel Tami
Located not far from Nancy and Metz, the Relais des étangs is managed by the association Culture et libertés. In the heart of a large park, in a rural revitalization zone, it has for 30 years been hosting associative groups, seminars and other training courses. It thus opens its doors to heritage discovery, nature, circus classes, and even, since 1985-1986, courses on renewable energies.
Through the years, it has focused on sustainable development, opting for energy saving lamps, lower water flow taps, double glazing, composting of waste produced by the preparation of meals and shearing.
With the current project, Relais des étangs takes a new step: it wants to further reduce its ecological impact through specific installations and become a genuine pilot facility for soft energies.
Facets of sustainable development
Three guidelines are highlighted. First, through educational tourism, the association plans to address various topics (discovery of the orchard, use of the bread oven, fruit processing).
Second, it also wishes to provide all the publics concerned with training in the concept of sustainable development (energy management, installation of scientific activities on soft energies in holiday centers, reduction of the individual ecological imprint, etc.).
Third, it aims to develop accommodations for school publics and holiday centers with a dominant theme on ecocitizenship.
To make its deeds match its words, the Relais des étangs is undertaking a necessary upgrading of its premises: improved insulation, solar hot water production and double flow ventilation on Canadian wells. This new installation will serve as a concrete pedagogical support for the theoretical exposés. Thanks to explanatory panels, a guided tour of the premises will be organized during the various courses.
The 30 000 euros grant from the fondation Veolia will pave the way for the different renewable energy sources.