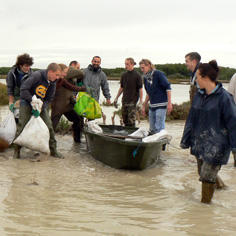 Environment and Biodiversity
Place
Languedoc Roussillon; Provence Alpes Côtes d'Azur; Corsica, France
Sponsor
Cédric Soots
Grant(s)
30 000 € to the Selection Committee at 2009/12/01
Project leader
"The aim of the ecotourism project (controlling the environmental impact of tourist activities) is closely linked with the environmental objectives of Veolia Environment. In concrete terms, this project will provide genuine added value over three years to reconcile tourism management and environmental conservation in lagoon areas."

Cédric Soots
The Mediterranean coast is increasingly popular with new families coming home to roost or tourism that's growing throughout the year. This is a clear fact whose impact on the fauna and flora needs investigating, in order to properly organize an outstanding form of leverage to reconcile human development and environmental conservation: ecotourism.
This issue is the subject of a program spread over four years (2009 to 2012) and three regions (Languedoc-Roussillon, Provence Alpes Côtes d'Azur and Corsica), conducted by the Conservatoire des Espaces Naturels du Languedoc-Roussillon (CEN L-R) with several partners. The impact of a steadily growing human presence in natural environments such as wetlands will be examined, particularly the destruction of the fauna and flora in the dunes or near the lagoons. It will then be necessary to learn how to reconcile tourism, which is necessary for the economic life of the region, with the conservation of natural spaces. This program is built around five aspects: identification and accompaniment of pilot projects; compilation of a referential frame of good practices for professionals and the creation of labeling systems; raising the awareness of tourists; updating the economic and sociological data associated with tourism and with the environment; and promoting sustainable tourism.
A pilot site to propose optimized solutions rapidly
Among the pilot projects already identified, the Salins site at Villeneuve-lès-Maguelones is a very popular rambling area that combines a specific fauna and flora with installations formerly used to harvest salt. Attendance studies will be conducted so that, to start with, a better knowledge will be gained of the accommodation capacity of the place. The data will fuel broader considerations on controlling the environmental impact of tourism.
Central questions will be addressed during the study: what are the best types of access? For which tourists? At what time of the year, of the day? Diffuse or concrete tourism? (With the medium-range risk of destroying the site, but the assurance of conserving the rest of the environment?) The results will be used to draw up a program of "attendance management studies".
Thus for Salins, this project could for example materialize in building a host structure or the construction of car parks in the heart of the commune, near the nature site. The Veolia Foundation will participate in the development of this project for the three years of its implementation.