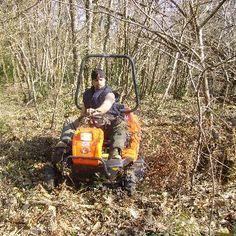 Social and Employment
Place
Parc naturel forestier de Sissan, commune of Camblanes et Meynac, France
Sponsor
Christian Bouzat
Grant(s)
15,000 € to the Selection Committee at 2005/10/04
Project leader
Réalisation Environnement Valorisation
« This is an extremely worthwhile project which combines social integration, training, learning a profession and environmental protection". All of which results in a landscaped public area which can be enjoyed by the disabled. »

Christian Bouzat
The natural forest park of the Domaine de Sissan is situated in the Gironde region, a short distance from the famous vineyards.
In 2005-2006, the commune of Camblanes et Meynac, which owns the park, established a home for the disabled and created a 10-hectare zone for forest walks and leisure activities open to the general public.
This was in keeping with a twin objective to offer disabled people pleasant surroundings in which to live, adjacent to fauna and flora, while facilitating contact with members of the public enjoying a stroll. The home, called Handi-Village 33, can now accommodate 60 residents and 85 jobs have been created thanks to the new facility.
Upgrading of this natural site has been entrusted to the "Réalisation environnement valorisation" association (REV), founded in 1992, which strives to get the socially excluded back into work and mainstream society.
Jobs in a new sector
Volunteers are already engaged in a number of environmental projects under REV's supervision: cleaning up of the river banks, creation of hiking paths, maintenance of green areas, etc.For this "Handi-Village" project, six income support recipients have been taken on under temporary contracts until project completion. This work enabled them to acquire new skills such as felling dead trees, brush clearance adapted to the various species and burning of dead wood, etc. Once these skills were acquired, they could be the subject of validation of acquired knowledge (VAE) in forestry work. A case of skills training aimed at successful professional integration.
Alongside the Conseil Régional of Aquitaine, the Veolia foundation provided REV with 15,000 euros in funding. This grant covered the purchase of special forestry equipment: strimmers, hoists, chain saws, etc.