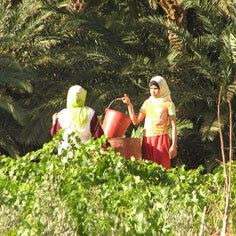 Social and Employment
Place
Tougdha El Oulia, Morocco
Sponsor
Philippe Moreau
Grant(s)
20 000 € to the Selection Committee at 2009/06/16
Project leader
"SolHandi proposes to act for handicapped persons in Morocco, where the needs in this area are enormous.An emerging African country, which has to solve many problems, it is absolutely normal to help it in areas which are not absolutely priority issues.This qualification center will help improve the living conditions of the handicapped persons."

Philippe Moreau
Faced with the very serious lack of organizations aimed at handicapped persons in the developing countries, SolHandi was created in April 2005.Since then, it has set up projects in Mauritania, Mali and as far as Ethiopia with a determination to help locomotor challenged persons.In 2006 for example, the Veolia Foundation already helped it launch a wheelchair production workshop in Nouakchott.
For its new project, in Morocco this time, SolHandi will help the rural commune of Toughda El Oulia, in the Tineghir region, to acquire a professional qualification center for handicapped persons.
Learning local crafts to gain self-sufficiency
On a plot of 600 m2, the future building (which will be constructed partly thanks to the grant from the Veolia Foundation) will contain the dormitories for accommodation, alongside areas dedicated to theoretical and practical training.It will be fully designed to facilitate access of locomotor challenged persons.
To improve their life professionally and socially, training will be focused on manual jobs that will then help them develop economic self-sufficiency, such as the production of necklaces and jewelry, rugs, the bottling and sale of olive oil.For the time being, 95 handicapped persons have been identified by the commune.But other families have already declared that one of their members could also be interested in this initiative, proof that it is far from superfluous!