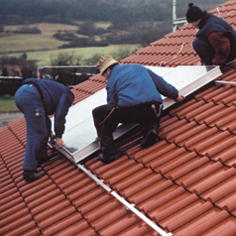 Environment and Biodiversity
Place
Leipzig and Chemnitz., Germany
Sponsor
Alexander Redeker
Grant(s)
20 000 € to the Selection Committee at 2006/01/31
  Project leader Naturstiftung David
«  To use sports as a vector to tell the public about innovative and environment friendly energy conservation techniques turns out to be a simple and effective idea. The members of the associations are involved from the onset of the diagnosis phase, enabling them to discover the techniques and their benefits. »

Alexander Redeker
Since 1998, when it was created to promote nature and environmental conservation in the new Länder of the former East Germany, Naturstiftung David has supported a hundred odd initiatives. Sonnenklar!*, its first project launched in 2001, starts with a sunny intuition. To maximize public awareness of the need to reduce energy consumption, it had the idea of involving the sports associations and communes by proposing to analyze the expenditures of their sports facilities in terms of heating, energy supply and water.
The very comprehensive Sonnenklar! project has several facets: first, a diagnosis of the existing situation, followed by the proposal of ecological and economically viable alternatives to replace "greedy" equipment. Naturstiftung then searches for sponsors to help the associations and local authorities finance these new facilities. And finally, it accompanies the entire communication and public familiarization effort (billboards, websites, etc.).
Highly Encouraging Results
Armed with the successes achieved in the Land of Thuringia, where 50 projects were completed representing over 800 000 euros of investments, Sonnenklar! is spreading today into Saxony, starting with the two cities of Leipzig and Chemnitz. It relies for the purpose on solid partnerships: the Federation of Sports Associations of the Land, an Environmental Conservation Association (Umweltbund Ökolöwe Leipzig) and the Nature and Environment Foundation of the Land of Saxony.
To get the maximum number of subscribers, Naturstiftung David takes care to associate various publics as early as possible: sports coaches are trained in energy conservation systems and sustainable development practices, sports licensees are invited to observe the approach from the diagnosis phase, and the local SMEs are then enlisted to carry out the operations associated with the new installations.
Veolia foundation, convinced àf the value of this vast project, decided to allocate 20 000 euros for the purchase of solar collectors and equipment for optimizing the heating systems. Ultimately, Naturstiftung David estimates that nearly 20% of energy savings can be realized throughout the sports establishments of Germany.
* Bright as the Sun!