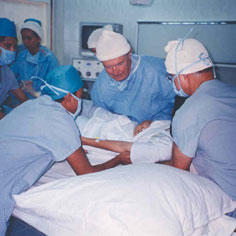 Humanitarian and Development
Place
Laos, Vientiane
Sponsor
Nolwenn Kervala
Grant(s)
20,000 € to the Selection Committee at 2004/11/30
Project leader
AMFA (Association médicale franco-asiatique)
Founded in 1979, Amfa, the Association médicale franco-asiatique (Franco-Asian Medical Association) has taken on the mission of helping Southeast Asian countries build competent and long-lasting medical centres. In order to do so, it provides essential complementary medical training (surgeons, doctors, nurses, etc.), takes part in fitting out centres with medical equipment, and trains technicians in charge of maintaining it.
The only trauma centre in Laos
Through this type of work, the association just supervised the construction of a new building intended for the emergency department of the Vientiane, Laos, hospital. This department, which is the country's only trauma unit, also includes a section reserved for children.
At the end of 2004, the building's shell was finished and the medical staff was being trained in Parisian hospitals. However, in order for the department to become fully operational, one last stage of construction had to be completed: permanently supplying a technical platform with quality pressurised water. The Veolia foundation will contribute to this work through a 20,000 euro grant towards three 40 m deep wells equipped with pumps, an intermediary reservoir, and a complete distribution network. The work will be funded by local companies, under the supervision of the Laotian Health Ministry.