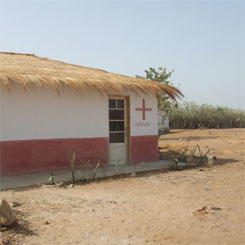 Humanitarian and Development
Place
M'bour, Senegal
Sponsor
Frédéric Galano
Grant(s)
€8,000 to the Selection Committee at 2012/10/09
Project leader
The French nonprofit Sama Keur (home in Senegalese) is building a reception center for the street children of M'bour, a town and fishing port located about 80 km south of Dakar, but above all, right next to the Saly tourist resort (a mecca of child prostitution).Sama Keur's mission, in addition to keeping the children away from Saly, is to offer them a roof and regular meals, to organize them, educate them and empower them by involving them in the life of the center, as well as enabling them to acquire vocational training.In this way, they will leave the center with a future.At the same time, Sama Keur wants to create a dynamic with local empowerment around these children by creating a local branch.Sama Keur France is handling the investment part of the budget, and Sama Keur Senegal is progressively dealing with the operational part of the center.
Installing a permanent drinking water supply
Today, as the first section of the building work is nearing completion, the nonprofit has to set up a permanent drinking water supply.This will be a gravity system, supplied from a borehole by a solar pumping system, that will ultimately provide for 110 persons.The project is backed financially by the commune of Sanguinet (where the nonprofit is domiciled), through the Oudin-Santini bill.The size of the system and its operation will be monitored by the project sponsor.
The Foundation is participating in this project by installing the borehole and the solar pump, as well as disinfection, thereby providing minimal access to water, before installing the gravity supply system.