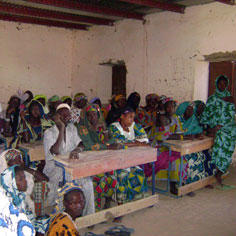 Humanitarian and Development
Place
region of Niafunke and Gounda, Mali
Sponsor
Alain Moulinier
Grant(s)
19,000 € to the Selection Committee at 2008/05/27
Project leader
SMARA Santé Mali Rhône-Alpes
« SMARA has been a loyal partner, recognised by the authorities of Mali for more than 20 years, and has serious support from the Rhone-Alpes region. Solidarity, a priority area for the Foundation, is also at the core of this health development project presented by the association, with a concern for permanence and the transfer of skills to the Malians. »

Alain Moulinier
In northern Mali, infant mortality is as high as 55 infants per 1000 during the pre- or post-delivery period and 6 women out of a 1000 die in childbirth due to complications.
The association Santé Mali Rhône-Alpes has been working for more than twenty years in the region of Timbuktu to improve the health of the local populations and to facilitate their access to qualify care. It organises medical cooperation between Malian doctors and doctors of the Rhone-Alpes region, and provides direct support to the Centres de santé communautaires (CSCOM) in training and prevention.
Giving life without losing it
Among the eight targets set by the member states of the United Nations for the new millennium, reducing infant mortality and improving maternal health is near the top as an absolute priority. To achieve this goal in Mali, SMARA will improve the training, and hence the competence of the medical personnel, provide more effective access to care, and facilitate the obstetric care of future mothers by informing the population more thoroughly. These actions will take place in the reference community health centres and, obviously, directly in the villages. They concern nearly 65,000 Malian women of childbearing age, and also 15,000 infants about to be born.
Faced with this essential challenge, the Veolia foundation joined hands with the Rhone-Alpes region to provide its support to SMARA. Thanks to the grant provided, educational equipment, medical kits for the obstetricians and equipment for the laboratories of the medical centres will be purchased.