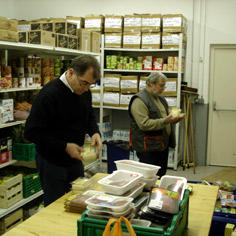 Social and Employment
Place
Charenton-le-Pont, France
Sponsor
Rodolphe Carlo
Grant(s)
€10,000 to the Selection Committee at 2011/06/28
Project leader
Au petit plus
"I was happy to personally confirm the degree of involvement of the volunteers of the Au Petit Plus grocery, the seriousness of the organization and the justification of the project."

Rodolphe Carlo
The outreach grocery Au Petit Plus is a nonprofit created in 2005 by the Saint Vincent-de-Paul Association thanks to a private bequest. Similar to its alter egos, Au Petit Plus mainly provides food aid to a destitute, vulnerable or sidelined public, on the principle of fighting exclusion without favoring dependence, respecting individual freedom and promoting lasting integration. The public here also essentially consists of welfare recipients, retirees, temp workers, poor students, to whom the grocery offers substantial food aid, insofar as the products are sold at a tenth of the price charge by the shopping malls.
Over 100 families enjoy food aid from Au Petit Plus today
Already, when it was inaugurated, Au Petit Plus welcomed 30 families every week, or about 90 persons. Today, in the present economic context, more than a hundred families of Charenton-le-Pont and also from the neighboring town of Saint-Maurice go there to stock up. So it is forced to expand by storing more food via partnerships with the big food brands, and to acquire more refrigerators. Au Petit Plus also ultimately wants to see the creation of a departmental association of outreach and social groceries of the Val-de-Marne. The aim is to mutualize purchases and to represent the outreach and social groceries officially with the General Council of the Val-de-Marne district.
The Foundation is participating in the purchase of new equipment, particularly refrigerators, to enable the grocery to contend with the rising number of beneficiaries.