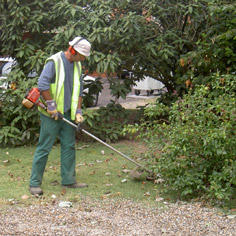 Social and Employment
Place
Agen built-up area, France
Sponsor
Ghislaine Chauvet-Lamblin
Grant(s)
12,000 € to the Selection Committee at 2008/03/26
Project leader
Régie de Quartier d'Agen
« As a client service manager of the Veolia Water Agency in Agen, and also as a citizen and mother, I am keenly aware of the urgent need to conserve this precious resource, water. And alongside the large-scale projects decreed nationally and internationally, I believe that each one of us must lend a hand through simple everyday acts. This is why I approve of the project of Régie de Quartier d'Agen: it is consistent with this concern. »

Ghislaine Chauvet-Lamblin
Cleaning corridors and stairwells, guaranteeing the cleanliness of thoroughfares: since 1998, Régie de Quartier d'Agen has taken charge of these tasks which, while appearing routine, contribute substantially to the quality of life of the population.
In 2004, the Veolia foundation helped it for the first time to diversify and create a new activity in open space mowing and clipping, and the collection of dead leaves.
Six integration jobs were created accordingly, and work was certainly not lacking in this area! On the whole, Régie de Quartier has managed to offer work to 35 employees under integration contracts.
Eight additional integration jobs
Faced with growing demand for open space maintenance, the Régie is broadening its service range by offering private individuals and companies: pruning of hedges and trees, upkeep, weeding and clearing, planting. By this expansion, it wants to train its employees to be landscape gardeners, and thereby make them more employable.
In addition, it is now turning toward environment friendly techniques, attempting to participate through highly concrete projects in raising the awareness of its employees, as well as the officials of the commune and the inhabitants.
The aid granted by the Veolia Foundation will thus enable it to purchase a steam weeding machine. Already used in several communes in France, like Quimper and Annecy-le-Vieux, this technique ensures effective weeding on all surfaces, by eliminating the risks of water, air or soil pollution. And with reasonable water and fuel consumption too.
Ultimately Régie de Quartier d'Agen wants to encourage the neighboring municipalities and other landscaping firms to opt in turn for these green techniques. Over and above this exemplary action, weeding with steam will serve to create an additional eight integration jobs.