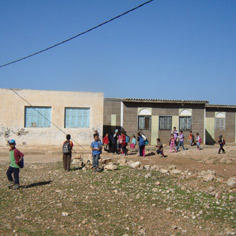 Humanitarian and Development
Place
South of Essaouira, Morocco
Sponsor
Pierre Dissaux
Grant(s)
€5,000 to the Selection Committee at 2011/06/28
Project leader
Les camions de l'espoir
"I got to know the nonprofit Les Camions de l'espoir during the first project which received a grant from the Foundation in 2008. I shared in following up the project, and am happy today to continue to counsel the nonprofit and to sponsor this fine initiative."

Pierre Dissaux
Since its creation in 1985, the nonprofit Les Camions de l'espoir has been providing aid to the countries of the Sahel and specifically to Morocco. Each year, the nonprofit organizes humanitarian missions by sending out trucks loaded with equipment and volunteers for actions concerning access to water and/or the rehabilitation of rural schools. This includes, for example, the installation of a pumping station to supply the water tower of the douar of Timijout (population 600) and the renovation of several schools in the Essaouira area.
Installing roof gutters to collect rainwater
2011 will also mark the rehabilitation of a rural school in douar Agni, 40km east of Essaouira (110 homes, population 686, including 86 children). The operations will include the construction of a surrounding wall for the protection of the children, with an entrance gate; two toilets, the renovation of the roof of the school's two prefabricated buildings, the installation of roof gutters to collect the rainwater and, naturally, miscellaneous indoor renovation and revamping operations, such as the kitchen area, and the electrical and sanitary installations.
The Veolia Foundation, which already supported Les Camions de l'espoir in 2008 by financing the construction of a water tower, a school and restrooms with toilets, is repeating its support for the rehabilitation of the school of douar Agni.
---
OTHER PROJECT SUPPORTED
Refurbishing of an obsolete school without a sanitary installation in the Essaouira region.
Domain: Humanitarian and Development
Country: Morocco
Endowment: 2008/05/27
> Learn ore about this project