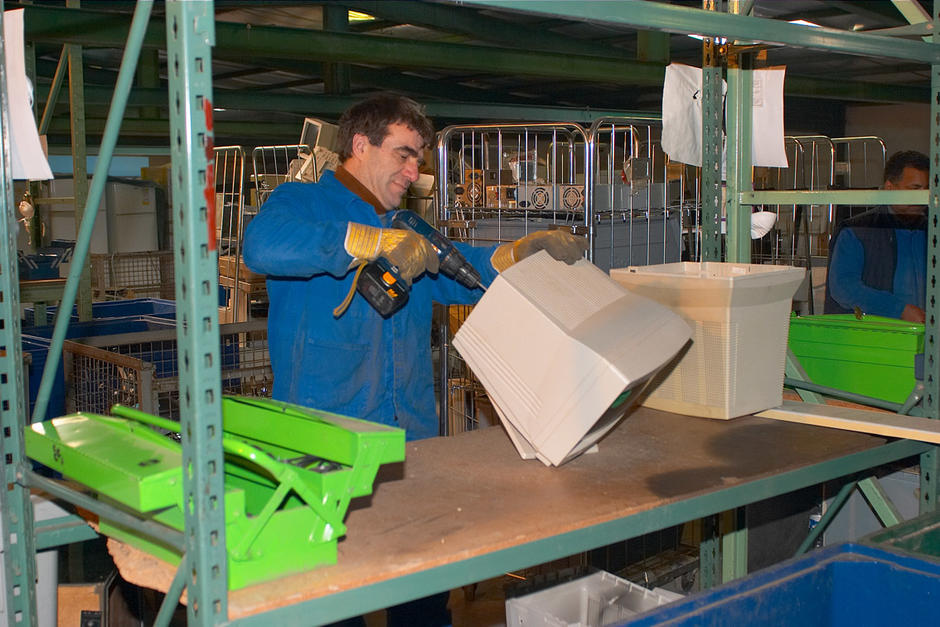 Social and Employment
Place
Seine-Maritime, Saint-Aubin-lès-Elbeuf, France
Sponsor
Antoine Scicluna
Grant
30,000 € to the Selection Committee at 2004/09/28
Project leader
Envie Ladapt Haute Normandie
« The project is viable and has left me with a positive impression, especially since the State and local authorities are behind it. Funding from the Foundation will make it possible to buy and install depollution equipment. »

Antoine Scicluna
For the past ten years, the Envie-Ladapt association has been carrying out a dual mission in the town of Elbeuf, Seine-Maritime. In this area of high unemployment, it works to facilitate social integration of the long-term unemployed while conducting activities in favour of sustainable development. In concrete terms, Envie-Ladapt recovers used household appliances from major suppliers then restores them to an as-new condition in its social integration company before selling them on at 50% or 70% of their usual retail price at its stores in Elbeuf, Rouen and Evreux.
Recovery of chemicals
Flushed with the success of this initial project, Envie-Ladapt has targeted a new sector: depollution, recovery and upgrading, as required, of recyclable elements and chemical substances contained in everyday appliances. For instance, the association recovers CFC gases found in refrigerators, compressor oil, washing machine capacitors and TV/PC screens. This new project has already created new jobs.
In partnership with other private foundations, the State and local authorities who are also involved in the project, the Veolia foundation has helped Envie-Ladapt move to new premises equipped with special tools designed for this second activity.