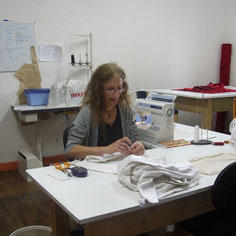 Social and Employment
Place
Saint-Jean-Pied-de-Port, Pyrénées-Atlantiques, France
Sponsor
Christian Bouzat
Grant(s)
30 000 € to the Selection Committee at 2007/04/03
  Project leader Lagun
« 
Every year, the Lagun association takes in new persons in difficulty. The manager of the association, Didier Costil, is recognized and appreciated for his knowledge about socially disadvantaged classes and his technical expertise. Today, Lagun must find premises for its environment workshop: the subsidies earned by this activity will guarantee the financial survival of the sewing shop. These skilled seamstresses, very popular in the region, also help to maintain the Basque tradition. Lagun mainly offers them the hope of professional reintegration at the end of their contract.
 »

Christian Bouzat
Nearly 80 persons work for Lagun today. For twelve years, this Basque association has proposed jobs and professional accompaniment to the region's most disadvantaged people. The environment branch includes forestry, water management, the restoration of walking trails, etc. And in 2002, Lagun developed a sewing shop for the benefit of the women. That is where they fashion clothing for the dancing clubs and traditional Basque costumes, marketed though exhibitions.
In 2006, the association had to leave the premises which housed the environmental workshop. Having purchased its own buildings with several public subsidies, it still needs to furnish and develop these areas.
80 permanent jobs to restore hope
Having acquired a shed in summer of 2006, the Lagun team has already gutted the interior. The installation project calls for a dedicated training room, dressing rooms, sanitary blocks and offices. The aim is to make the entity operational by the second half of 2007. The association will not only have permanent premises for its environmental operations, but will also host the sewing shop, now temporarily accommodated by the town hall. The Veolia  foundation is backing the project with a grant of 30 000 euros.