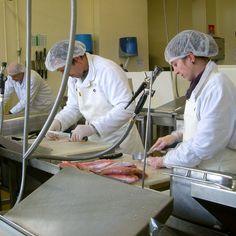 Social and Employment
Place
Kerambourg Farm, Loctudy, Finistère (France), France
Sponsor
Alexandre Le Ster
Grant(s)
15,000 € to the Selection Committee at 2006/01/31
  Project leader Le Panier de la mer
«  This additional request ties in with the previous support, and will help with completing the work on Kerambourg Farm. Its role is very important in assisting with the reintegration of the long-term unemployed. »

Alexandre Le Ster
Two factors that led to the association being formed: when the price of certain species of fish fall below a threshold at the wholesale fish markets in Brittany, they are destroyed or thrown to the shags, despite the fact that there are many people without the resources to feed themselves properly.
At the same time, the long-term unemployed find it difficult to find work in the region (as elsewhere), despite fishing industry professionals' complaints that they cannot find sufficient qualified and skilled employees.
The founders of the Le Panier de la mer association came up with the idea of combining the two situations to provide new training for the unemployed and... food for the needy.
Finish the renovations
At Port Loctudy, they established a workshop-school that trains twelve long-term unemployed people each year in how to process fish ready for the market and consumption. The course, with theory and hands-on units, lasts several months. On completion, the new trainees leave with a diploma under their belt. To diversify, but within the same overall approach, Le Panier de la mer also provides training in biological market-gardening at Kerambourg Farm. The vegetables and fish are then given to the food bank run by the charity Secours Populaire.
In 2004 and 2005, the Veolia foundation already provided assistance to Le Panier de la mer to help upgrade the farm and provide acceptable conditions for the trainees and their teachers: construction work, timber roof frames, slate roofing, zinc work and external joinery have all been completely redone.
This year, it will again provide support in the form of 15,000 euros to assist with interior finishing: tiling, insulation, painting, electricity, plumbing, etc. Renewed support for an association that has repeatedly demonstrated its positive contribution.