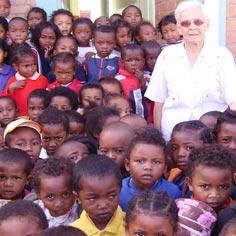 Social and Employment
Place
Ankasina, neighborhood of Antananarivo, Madagascar
Sponsor
Dominique Boizeau
Grant(s)
20,000 € to the Selection Committee at 2006/07/04
Project leader
Les enfants d'Ankasina
"Sister Therese's achievement over a few years is absolutely extraordinary. This project to welcome orphans and abandoned babies is particularly urgent because the situation in Madagascar is steadily deteriorating."
Dominique Boizeau
A highly disadvantaged neighborhood in a country that is among the planet's poorest, Ankasina, in the first district of Antananarivo, is a heap of handicaps. Built in a flood area, in the midst of rice paddies and swamps, it is very insalubrious. And yet, 15 000 people live there, including 40% under 15 years of age. Life expectancy is very low, but the population is teeming.
In 1995, Therese L'Yvonnet, a little sister of Providence, decided to settle there to provide her help and generosity to the many children living there, abandoned or nearly so.
Shelter, education and now: the roof
She first got the municipality to release a small building surrounded by a garden. She installed a social assistance center there, where she served one meal daily to 100 children of the neighborhood.
Ten years later, this initially minuscule enterprise has grown thanks to the backing of public and private partners. Two new buildings have been built: they accommodate a dispensary open to the population of the neighborhood, classrooms and a dining room with its kitchens. Thanks to this organization, 400 children are fed, schooled and cared for, and 90 little ones go to the daycare center. These various activities help to employ 18 adults, paid with donations received by the French association Les Enfants d'Ankasina.
So far, however, once the day is over, the children, small and big, return outdoors' and very often to the street. Sister Therese has therefore decided to build a new building to accommodate sick orphans and newborn babies regularly abandoned in front of the center. It is then the association's duty to find host families for them. The project comprises dormitories (some 30 beds), sanitary blocks and a room for the night staff.
Approached alongside other major partners (the community of communes of Charenton-Saint-Maurice, the General Councils of Val-de-Marne and Ille-et-Vilaine, the Syndicat des Eaux d'Ile-de-France, the Lion's Club de l'Ouest and Autodesk), fondation Veolia decided to allocate 20,000 euros to the association of sister Therese. To help her protect the children of Ankasina, at night.