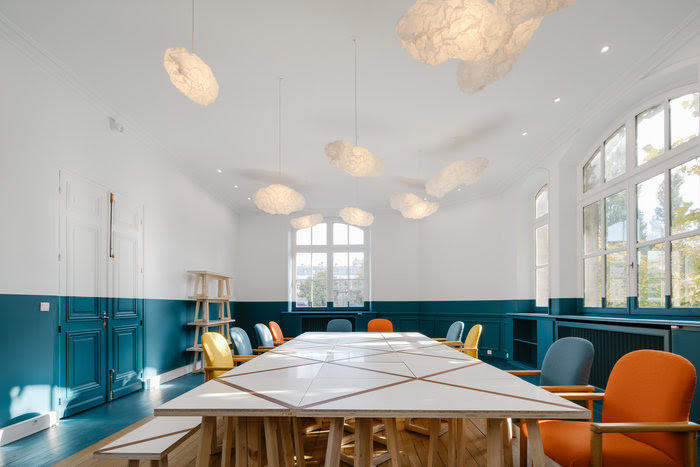 The location is presented as a showcase of Paris's international influence on the social and solidarity economy (SSE). Les Canaux, opened a few weeks ago over the ashes of the former Pavillon des Canaux in Paris, has recently begun to offer work and discussion space for SSE stakeholders. Located in the 19th arrondissement of Paris, it includes an exhibition and events area, pop-up shops, meeting and conference rooms, and will soon house an innovative start-up incubator.
 
Its design is exemplary: carpets made from recycled plastic bottles, chairs from bed slats, bean bags from hot air balloon fabric, etc. Extramuros was chosen to supply furnishings consistent with the spirit of the venue by reusing pre-existing materials. Supported by the Veolia Foundation, the association designed and delivered desks and modular meeting tables and benches made out of the doors of the old dark wood cupboards that furnished the site before the works began.
 
When this building located in Bassin de la Villette was officially opened, this expertise in designing original furniture without using new raw materials was welcomed by all the personalities present, including the Mayor of Paris, Anne Hidalgo, the Minister of Ecological and Social Transition, Nicolas Hulot, Nobel Peace Prize winner Muhammad Yunus, and Marc Watts, Executive Director of C40 Cities. This is true recognition for this front-line player in upcycling*.
---
* Upcycling is the action of recycling "upwards". In other words, adding value to materials and waste.
 
*
* *
 
Learn more about the Foundation's support for Extramuros.