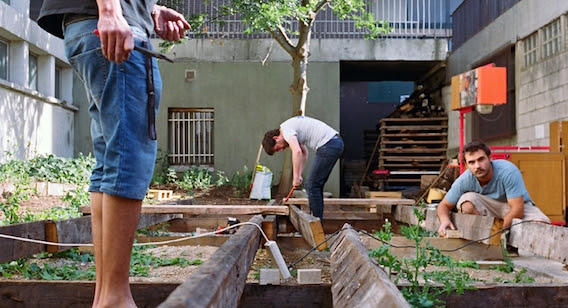 Students from the National School of Architecture (La Villette and Paris Malaquais) and from the University of Paris I joined forces a few months ago to develop an ambitious project. Dubbed 'the lions' den', this urban restoration programme attracted the attention of the international representatives who were in Le Bourget for COP21. It was included in the Seine-Saint-Denis Department's list of Commendable Projects and Sites. What does the project involve? A neglected and rubbish-filled space in a housing estate in Bagnolet is going to be turned into a garden and a place for social contact.  
The students have formed the YA+K association (Young Architects + Konnexion) and are going to help the local residents, community associations and community centres from Seine-Saint-Denis to reclaim the site – Maurice Thorez Esplanade – while involving them in a collective construction and development initiative. The initiative got underway on 11 December with an informal discussion arranged with the Pablo Neruda community centre at a sociable evening event held on the esplanade.  
The project scooped the third
Student Solidarity Award
, which was presented by the Veolia Foundation in June.