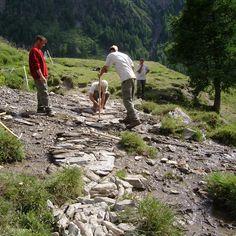 Environment and Biodiversity
Place
Hautes-Alpes, France
Sponsor
Gérard Delia
Grant(s)
35,000 € to the Selection Committee at 2008/01/29 Project leader Leï Fountgillencs canalpes.queyras.free.fr
"I feel passionate about this project for three reasons: its educational attractiveness, obviously linked to our business, its high end cultural aspect, attractive for audiences seeking theme trails based on water, and the spirit in which it is designed and completed, a concrete illustration of sustainable development. The history of the montagnards who have devoted their efforts to the service of water, the very basis of their life, should provide lessons for the generations of today and tomorrow."

Gérard Delia
From generation to generation, the montagnards of Fongillarde, Coin and Molines en Queyras have conceived, built, operated and maintained the Rouchas Fras ("big broken rock") irrigation canal. For seven centuries, its uninterrupted flow has watered the valley of Aigue Agnelle, in the heart of the magnificent natural regional park of the Queyras.
By deciding to develop a discovery trail along the eight kilometers of the structure abandoned in 1914, the managers of the association Leï Fountgillencs want today to transmit to the young ones the respect that past generations had for the precious resource "water". They also wish to remind them of the feats of ingenuity that the montagnards already achieved hundreds of years ago to fully optimize the water cycle.
A sort of education in sustainable development, beginning with the past.
Wood, stone and lava to withstand the rigors of time
Passionate guardians of the local heritage and traditions, they have already built an ecomuseum and reconditioned a village oven. The development of this exceptional mountainside project poses other challenges. The restoration of the discovery trail primarily entails bank support structures, the reconstruction of wooden passages and retaining valves, tasks entrusted essentially today to a workforce integration agency.
Yet the project also has a true educational ambition. Designed by the artist Michel Yves Huet to blend into the environment, covered with enameled lava, a score of stone markers and a memorial in eight scenes will punctuate the overall itinerary, relating at each step the genesis of the canal, its history, and that of the men who made it, as well as the fauna, flora and geology of the site. This initiative, based on the catchment, management and preservation of water, will be supplemented by other tools to familiarize or inform many audiences (schoolchildren, tourists and irrigation canal aficionados), and Leï Fountgillencs are planning to create a job to manage all these aspects.
Alongside the association and the territorial authorities concerned (Provence-Alpes-Côte d'Azur region, general council of the Hautes-Alpes, town of Molines-en-Queyras), the Veolia  foundation is contributing to the financing of the development of the trail and the educational facilities.