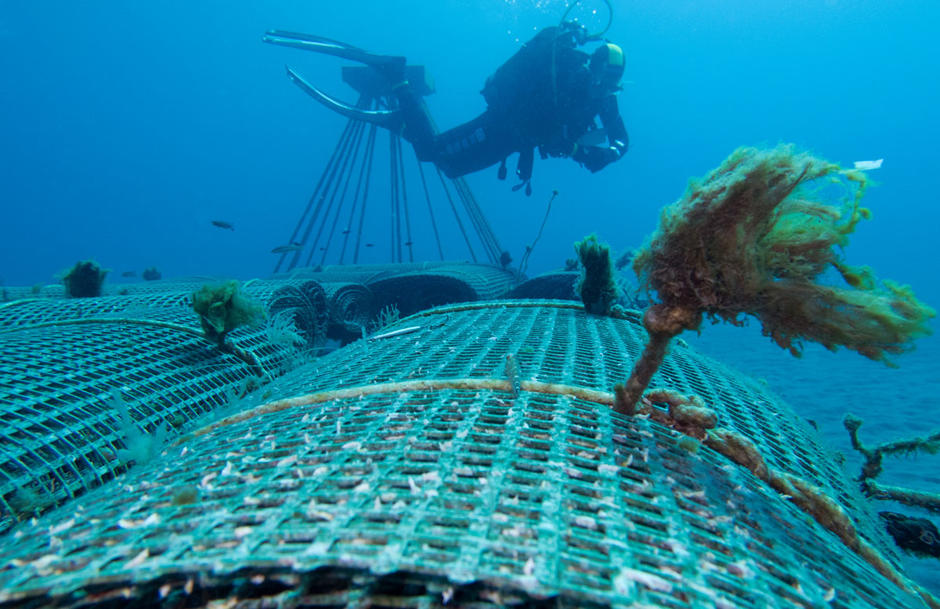 Environment & biodiversity
Location
Var (France)
Sponsor
Emmanuel Plessis
Grant
€200,000 for the Board of Directors on 31/01/2011
Project Leader
Toulon Var Technologies (TVT Innovation)
 "This project is a major innovation in reconquering coastal environments. It enjoys a substantial research & development aspect for it opens up interesting perspectives. Indeed, if the scientific findings are positive, we shall be in position to provide overall engineering solutions combining next-generation treatment plants with innovative reefs in order to stop anthropic pollution while contributing in restoring damaged environments."
Emmanuel Plessis
The Amphitria treatment plant was designed and built by Veolia, who operates it to treat the pollution stemming from the city of Toulon wastewaters using an advanced physical/chemical and organic filtration process. While the site has since regained a healthy sand bed, marine life remains below par and the aquatic plant habitat has not yet reappeared, with nothing to start attracting again the flora and fauna that used to be so abundant.
 
An innovative artificial reef
In response to an appeal by the Rhône-Méditerranée-Corse Water Authority to revitalize the marine environment, in 2014 a multi-disciplinary grouping of partners began experimenting with "Remora", an innovative artificial reef intended to help the aquatic flora and fauna reclaim the site. Project owner Toulon Var Technologies (TVT Innovation) is coordinating the initiative.
 
Consisting of light structures made from fibreglass and epoxy resin matting and modelled in either the shape of a hedge or based on 3D geometric shapes (igloos, sea urchins, pyramids), the reef was designed to provide a habitat and protection to young aquatic life. Its original, spindly structures will boost the fixation of the microfauna, the microflora and the postlarvae, thus providing nutrients to both the fish and the seabed.
 
A five-year study
Two identical reefs were set up about fifteen metres deep: one of them is impacted by the daily release of 60,000 m3 of treated wastewaters from the Amphitria plant and their high organic content, which acts as nutrients for the fauna; the other reef is located behind Cap Vieux, out of reach of that current. The objective is to compare the effect of each reef on the return and development of the fauna and flora.
 
Following an observation of initial conditions, two analytical surveys (one in spring and one in late summer) will be conducted yearly over a five-year period, assessing the revitalization of the seabed and improvements in ecological diversity, as well as the behaviour of the structures under the effect of currents and storms. Late summer is an beneficial period, for the water is warmer and the fauna is abundant, (fish, shellfish and molluscs), while the marine environment gets a large amount of organic material from the plant since it is a period of heavy tourist attendance and the weather is dry.
2 immerged reefs (360 m²) each consisting of 18 modules in various geometric shapes
2 yearly analytical surveys over a 5-year period
Funded by the Rhône-Méditerranée-Corse Water Authority and the Veolia Foundation, the Remora project is owned by the Toulon Var Technologies innovation association and brings together professionals from the environment and marine sectors working under the guidance of the Sea Division (Pôle Mer): DBS (designer and manufacturer of artificial reefs), ERAMM (design firm specialized in the marine environment), the Paul Ricard Oceanographic Institute, iXSurvey (a local company specialized in marine surveys). Veolia Water is in charge of coordination operations.