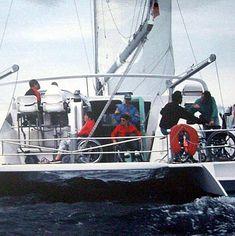 Environment and Biodiversity
Place
France
Sponsor
Michel Decorruée, Veolia Eau
Grant(s)
4, 000 € to the Selection Committee at 2005/05/31
Project leader
Handi 48 Loisirs-Evasion
«  The catamaran can accommodate eight to sixteen people, depending on the journey. It is accessible to the disabled for handling operations and for leisure. »

Michel Decorruée
Just because someone is confined to a wheelchair (sometimes due to an accident or illness), it doesn't mean they no longer feel the urge to get away from it all by practising a physical activity. If anything, this urge can grow stronger.
Being disabled himself, Jean Pourredon knows better than most.
Several years ago, he founded the "Handi 48 Loisirs-Évasion" association in Pau with the aim of allowing those suffering from physical disabilities to enjoy sport and other activities on the open sea and in the mountains.
Accessible and safe sea trips
In this context, since 1990 "Handi 48" has been operating a 15-metre catamaran built and fitted out to accommodate five wheelchair-bound and three fully-abled crew members. From its home port of Argelès-sur-mer, it runs full-day or half-day sea trips as well as cruises lasting up to a fortnight in the Mediterranean, even going out as far as the Balearic Islands.
After fifteen years of sea trips, the craft is now desperately in need of safety upgrades and refurbishment. "Handi 48" has asked Veolia foundation to help cover the cost of the renovation work. The 4,000 euros in funding will help pay for the new technical equipment needed.
And the sea will once again be accessible to all.