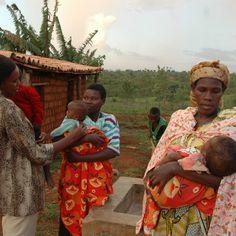 Social and Employment
Place
Ruyigi, in the east of the country, Burundi
Sponsor
Dominique Boizeau
Grant(s)
90,000 € spread over three years to the Selection Committee at 2006/05/23

  Project leader La Maison des anges
« 

Today, beyond ethnic and origin considerations, it is comforting to know that an African woman has decided to take charge of the future of the escapees of the conflict, the former fighting women, and to confirm that thanks to her, yesterday's enemies, hangmen or victims, have finally succeeded in living together. It is through such actions that Africa will ultimately escape from the human misery that is submerging and destroying it.
 »


Dominique Boizeau

In October 1993, the first Hutu head of State of Burundi was assassinated by Tutsi officers. And yet, he had been elected democratically. In a prelude to the horror that soon struck its neighbor, Rwanda, Burundi plunged into a long ten year civil war. The established power fought the rebel organizations until 2003. Tens of thousands of inhabitants were tortured, massacred, raped.
At the end of the conflict, thousands of children were orphans, wandering in the search for a roof and a little food; at the same time, young women (often forcibly) enrolled in one armed group or another found themselves without any resource to survive, and in addition, ostracized by the whole population due to their former "profession".
Conditions for an economic revival
At Ruyigi, in the east of the country, a woman has been trying to fight this situation since the outbreak of hostilities. Maggy Barankitse founded Maison Shalom in 1993 to welcome young orphans, without any ethnic distinction. And since 2003 and the signature of a peace agreement in Pretoria, she has undertaken development projects to revive the dynamism of her region and to create the conditions for a socioprofessional reintegration for the ex-combatants. Already built in this setting are a model farm, a small hotel-restaurant, a garage, a cinema, dressmaking and multimedia workshops—all structures generating jobs for these women who unhesitatingly accept jobs traditionally reserved for men. This is thanks to the backing of lenders and partners (including the French Ministry of Foreign Affairs, the Hachette-Filipacchi group, Électriciens sans Frontières and a Luxembourg NGO) convinced of the importance of Maggy Barankitse's approach.
Maison Shalom in turn approached Veolia foundation (and the Elle Foundation) for a number of new projects, including the training of 100 women in modern animal husbandry, the construction of a coop, courses in home economics, HIV awareness sessions, the construction of 50 residential units, and improved access to water.
To accompany this remarkable approach durably and constructively, the two foundations therefore decided to engage in a sustained partnership with Maison Shalom, each paying it 30 000 euros per year for three years.