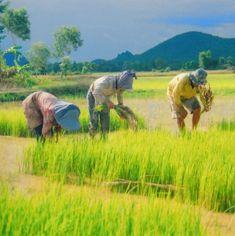 Humanitarian and Development
Place
Banteay Meas, Cambodia
Sponsor
Marie-Françoise Malheu
Grant
28,000 € to the Selection Committee at 2007/07/03
Project leader
Touk Meas - La Pirogue d'Or
Savong Kao and his wife Myra Soth are part of the community of rescued Cambodians: they survived the genocide of the Khmer Rouge and succeeded in escaping to Europe. But after 20 years spent in France with their four children, they decided to return to their native country and invest in their village, Banteay Meas. Since 2001, they have been building various infrastructures with the other inhabitants, relying on the association which they have founded: Touk Meas - La Pirogue d'Or.
A Comprehensive Development Project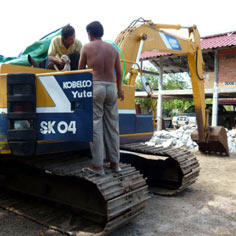 The association, created in June 2002, is inspired by the conviction that the reconstruction of Cambodia, a country that is still mainly rural, can only succeed if the peasants are given the means to survive on their land, educate their children, and acquire an elementary modernity. According to this conception, it has already had a weaving school, a library, and an irrigation basin for rice growing, built at Banteay Meas. Today, it has initiated an essential project: the safeguarding of the water supply, particularly during the long dry season.
A 10 000 m3 Rainwater Reservoir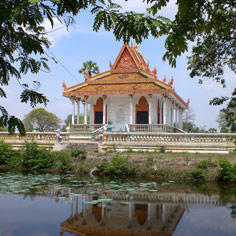 Ultimately, 600 families, or about 4000 persons, spread in more than eight hamlets belonging to the commune of Banteay Meas, will benefit from the future large capacity (10 000 m3) communal rainwater reservoir designed on paper by Touk Meas - La pirogue d'Or. Excavated at ground level, it will in turn supply another six reservoirs with a capacity of 2500 m3 each. Excavated in the moats of the chapel of the Pagoda (the social, educational and cultural center of the commune), it will be connected to the irrigation basin by a line closed by a lock. This system will help to adjust the water supply of the villages accurately during the six dry months.
The excavation of the main reservoir is scheduled to be completed in one month by some 15 workers selected among the villagers and staffed by Savong Kao. Subsequently, three full-time jobs for machine operators will be created for the duration of the overall worksite.
Later on, the association plans to build private ponds for each family. They will help to develop fish farming and truck farming on the banks to guarantee their subsistence and to improve their income. Each pond will cost 100 dollars and can be purchased by microcredit.
---
OTHER PROJECT SUPPORTED
Association Touk Meas - La Pirogue d'Or: Building a new drinking water supply system (AEP) in an isolated and poor village of southern Cambodia.
Domain: Humanitary and Development
Country: Cambodia
Endowment: 2013/04/09
> Learn more about this project