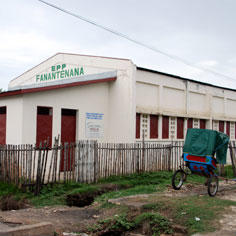 Humanitarian and Development
Place
Mahajanga, Madagascar
Sponsor
Jean-Philippe Riehl
Grant(s)
29 000 € to the Selection Committee at 2007/05/22 Project leader Enfants du Monde
«  The failure of the initial project in no way dampened the enthusiasm of the association, which immediately switched to a new project. It is with conviction and enthusiasm that I wish to support the rehabilitation of the school of Mahajanga. Besides, since the association benefits from a partnership framework contract with the European Union, it is subject to complete audits every three years. A further guarantee of probity.  »

Jean-Philippe Riehl
In Mahajanga, the deterioration of the socio-economic situation is affecting scores of families. More and more children are abandoned, in the street, with all the attendant risks: child labor (from the age of 6 sometimes), infant and juvenile prostitution, lack of schooling, brutality, maltreatment and crime. In this context, the school plays a major educational role, and also a protective one. But it has to be in fit condition to receive the children. Built in 1954, the primary public school of Fanantenana is totally dilapidated.
Always with the children
Engaged in many countries where children's rights are flouted, the association Enfants du monde-Droits de l'homme (EMDH) has been active for many years in Mahajanga. It runs a comprehensive program there in favor of children, including social prevention measures connected with the local associations, public preschool attendance, and the mobilization of the associative and institutional bodies.
Initially, the project led by the EMDH association and backed by the Veolia foundation was aimed at constructing three centers to accommodate the very youngest children. However, the defection of the local municipality unfortunately interrupted the project. To address this failure, the EMDH association shifted its attention to the primary school of Fanantenana.
The establishment has eight primary classrooms. It also provides preschool attendance since 2002 thanks to the construction of two classrooms by the association. The new project is aimed at the complete rehabilitation of the premises: the sanitary block, roofs, drop ceilings of six classrooms which seem about to collapse, the masonry, outdoor stucco, the office-library area and the water drainage system. The operations will take place during the school holidays of summer 2007. The Veolia foundation is paying for all these operations.