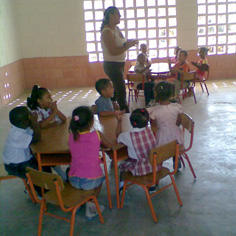 Social and Employment
Place
Cartagena, Colombia
Sponsor
Manuel Barrera Medina
Grant(s)
15 000 € to the Selection Committee at 2008/03/26
Project leader
Las Americas, a neighborhood of Cartagena in Colombia, has little in common with the American dream! It is essentially a shantytown in which some 11 000 persons manage to survive as best they can. The families earn less than $100 per month, the adults and children don't often eat their fill, and drug abuse is a huge problem. In the midst of this misery, a stone's throw from the luxury hotels of the city center, a small school has been built with financial support from the French government, via the French embassy in Colombia.
Initially intended for children under six, the school now welcomes children of all ages, because the Colombian academic system does not always take charge of students from these disadvantaged neighborhoods.
Protecting the children
In addition to the teaching dispensed in Spanish and sundry courses in French provided by the Alliance Française, the students of the school are offered lunch. This meal, often their only daily nourishment, and is the envy of the neighborhood: the school needed a barbed wire fence to prevent vagrant adolescents from stealing the food, and to prevent drug addicts from seeking refuge at night to elude the police.
The fence was then transformed into a genuine surrounding wall in order to reinforce the protective barrier. Once it is fully secured, the school wants to build a canteen where the students can dine - until now, they eat standing up! - and a sports field where they can play outdoors.
This is a project that the Veolia foundation, as well as the employees of Proactiva in Colombia, unreservedly support, because the daily life of these children deserves to be improved!